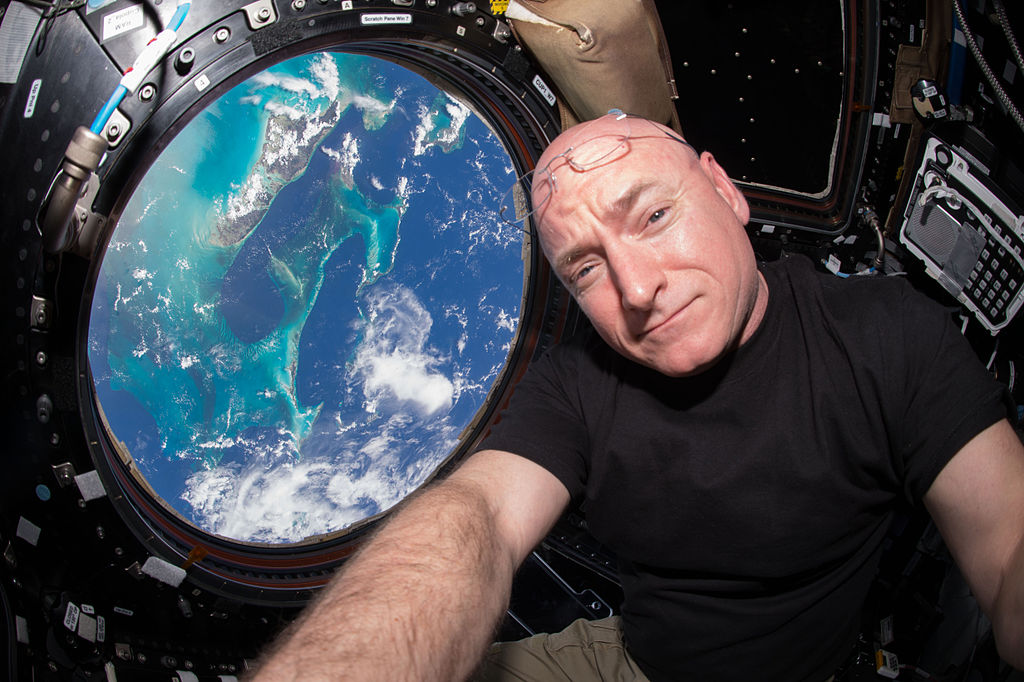 In response to the coronavirus pandemic that is currently laying siege to the world, governments around the globe are calling on the inhabitants of Spaceship Earth to confine themselves to their homes in an attempt to stem the spread of the deadly virus. However, humans are a social species, and many are expected to have a difficult time staying away from friends, family and social functions. But three astronauts—Scott Kelly, Chris Hadfield and Buzz Aldrin—have offered their advice on how to cope with the isolation you might be faced with during your coronavirus-mandated sequestration.
Astronauts are no stranger to long periods of isolation, especially NASA astronaut Scott Kelly, who spent a year-long record-setting tour aboard the International Space Station in 2015 and 2016.
"Being stuck at home can be challenging. When I lived on the International Space Station for nearly a year, it wasn't easy," Kelly recounts. "When I went to sleep, I was at work. When I woke up, I was still at work. Flying in space is probably the only job you absolutely cannot quit."
To help stave off cabin fever, Kelly recommends setting and following a daily schedule, a routine that you can use to establish structure around a combined work and home life environment. He also pointed out that "it's important to pace yourself."
While aboard the ISS, Kelly also set aside time for all-important fun activities, including movie nights with his ISS crewmates, "complete with snacks, and binge-watch[ing] all of 'Game of Thrones' — twice."
Although CSA astronaut Chris Hadfield's stay aboard the ISS was only half as long as Kelly's, he recently posted a video outlining four simple steps to help keep your cheese firmly on your cracker while remaining socially isolated:
#1: Know the risk
"Don't just be afraid of things. Go to a credible source and find out what is truly the risk that you are facing right now," Hadfield said, in this case urging people to educate themselves on COVID-19, so that you can help protect "you, your family, your friends, the people that you care about."
#2: Choose goals
It's best to keep yourself occupied, whether you're working from home or, as Kelly suggested, keeping yourself entertained. "What are you trying to accomplish? What are your objectives?" Hadfield says to ask of yourself. He recommends establishing a clear "mission" for yourself to accomplish "for this afternoon, for this week, or for the next month: what do you want to get done?"
#3: Identify constraints
It's important to assess what might be preventing you from accomplishing your goals, whether it's work obligations, financial resources or other obstacles. Can you work within these boundaries, or do you have to address them to complete your mission?
#4: Take action
After you've cleared the first three points, then comes the most crucial step: take action. "Start doing things," Hadfield says. "They don't have to be the things that you always did before. Take care of family, start a new project, learn to play guitar, study a new language, read a book, write, create: it's a chance to do something different that you've maybe not done before."
Last—but certainly not least—Apollo 11 astronaut Buzz Aldrin spoke to Ars Technica's Senior Space Editor Ed Berger about how he's protecting himself from becoming infected with the coronavirus. His answer? Classic Buzz:
"Lying on my ass and locking the door."
At 90 years of age, Aldrin is part of the highest risk group for developing very serious complications if he were to contract the virus, so wise-acre remarks aside, he's taking the matter very seriously.
Aldrin and his Apollo 11 crewmates—Neil Armstrong and Michael Collins—famously spent three weeks in quarantine as a precaution against possibility that the astronauts might have tracked microbes back from the Moon with them.
While in quarantine, Aldrin said that he and Collins would "exercise and jog a little bit around the hallway" to pass the time. "We looked at this one crack in the floor, and there were ants crawling in and out," an unfortunate sign that there was a breach in the Lunar Receiving Laboratory where the three astronauts were isolated. Thankfully, it was determined shortly afterward that no known microbes live on the Moon, so the world avoided being infested by lunar germs.
Had field closed his video on a hopeful note, telling everyone to "take care of yourself, take care of your family, take care of your friends; take care of your spaceship."
"And I wish everybody 'happy landings'."
Dreamland Video podcast
To watch the FREE video version on YouTube,
click here
.
Subscribers, to watch the subscriber version of the video, first log in then click on Dreamland Subscriber-Only Video Podcast link.