It's only been six weeks since our last report on the weather chaos currently gripping the planet, but the onslaught of devastating weather continues to deliver waves of heat, tornadoes, flooding, droughts, and wildfires, resulting in billions of dollars in damage, and scores of fatalities. Here's a breakdown of the wild weather that struck across the U.S., and around the world in the month of May: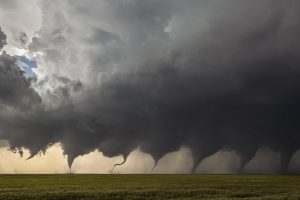 Tornadoes:
An unprecedented number of tornadoes tore through the United States over the past month, with over 500 twisters touching down in at least 25 states over a 13-day period in late May, including an EF4 twister in Dayton, Ohio, and another mile-wide EF4 a day later that leveled Linwood, Kansas, with its 170 mph (274 kph) winds.
516 tornadoes were reported in May alone, and if these reports are verified, May 2019 would handily beat May 2015's record of 414 twisters. Ten tornadoes have already killed 38 people in the U.S. this year, including 23 killed by an EF4 that struck Lee County, Alabama, in early March. By May 24, Pennsylvania had already exceeded its annual average number of tornadoes.
Tornadoes themselves are often part of larger weather systems marked by violent thunderstorms, rainfall and hail, and May's outbreak proved to be no exception, with added rainfall exacerbating conditions in regions that were already suffering from heavy flooding. The increase in the number of tornadoes this season is due to three factors: a mass of warm, moist air that is sitting over the Gulf of Mexico, a weak-yet-tenacious El Niño that's present in the Pacific Ocean, and the influence of
a weather phenomenon over the Indian Ocean called the Madden Julian Oscillation (MJO)
.
The MJO is a series of thunderstorms that forms in the Western Pacific and Indian Oceans, and this phenomenon became very active in early May. The energy from the MJO propagates eastward, and can result in the formation of strong storms along the west coast of North America, and meteorologists have found that activity in a MJO half a world away can help predict intense tornado outbreaks in the U.S.
Flooding:
The massive amount of precipitation dumped over the United States
has resulted in April 2019 being the wettest 12-month period on record for the U.S.
since record-keeping began in the mid 1890s, with ten states breaking all-time records. Over the first four months of 2019, many regions in the US had already received more than their annual average amount of rainfall–with eight months still left in the year–resulting in record-breaking flooding in Arkansas and Oklahoma, and prompting active flood or flash flood warnings and advisories in hundreds of counties across the Great Plains and Midwest.
The increased rainfall has also caused water levels in the Great Lakes to rise, with lakes Erie, Huron and Michigan sitting 32 inches (81 centimeters) above their average for the month of May, with Erie's level beating its all-time record by a half-foot. The water level in Lake Ontario is now at 34 inches (86 centimeters) above normal, breaking 2017's record by 3 inches, (7.6 centimeters). With many lakeside communities already dealing with flooding issues, water levels in the Great Lakes are expected to rise even further over the coming weeks.
Further abroad, 150 people have been killed this year due to heavy flooding in Afghanistan, following a winter of heavy snowfall and more recent heavy rains.
In Paraguay, at least 70,000 families have been displaced as they flee heavy flooding, with the Paraguay River rising at a rate of 1.5-2 inches (4-5 centimeters) each day.
As the climate warms, the extra heat increases the atmosphere's capacity to absorb moisture, resulting in heavier rainfall when the water finally comes down. Additionally, the jet stream, destabilized by the rapid warming of the Arctic, tends to park low-pressure systems over areas such as the middle of North America, bringing heavy rains and violent storms along with them.
The only silver lining to this wet weather is that it has alleviated drought conditions to many previously-affected areas such as New Mexico, Oregon and Texas, with only two percent of the country now suffering from dry conditions, down from six percent since the beginning of April. Unfortunately, drought conditions have expanded across Hawaii and Puerto Rico.
Heat and Drought:
In contrast to the soaking that the Great Plains and Midwest have endured, the southeast is being parched by hot and dry conditions. 66 wildfires were burning in Florida as of the last week in May, with record-breaking triple-digit temperatures being seen by locales such as Savannah, Georgia, where the thermometer hit 102°F (38.9°C) on May 26.
Hot and dry conditions were being reported by the U.S. Drought Monitor in Alabama, Florida, North Carolina, South Carolina, and Virginia. Additionally, parts of Arizona, New Mexico and Washington state are still suffering moderate drought conditions, part of a long-term dry spell that has plagued these areas; outside of the contiguous U.S., both Hawaii and Puerto Rico were suffering abnormally dry to moderate drought conditions.
But standing out from the rest of the pack is Alaska, having suffered a heat wave that pushed temperatures 20°F (11°C) above normal across the state last March. The month closed with some regions closer to the Arctic Circle recording temperatures that soared a full 40°F (22°C) above normal. Although most of the state isn't listed as being abnormally dry, this prolonged warm spell has eliminated the snowpack in some areas of the state, and the Bering Sea is nearly devoid of ice, at a time of the year when its waters should still be unnavigable.
Further afield, the dry conditions that plagued England last summer have persisted through the winter, and are still present this spring, putting pressure on both the country's wildlife and agricultural community. The flow in the Cam River is now listed as "exceptionally low", an occurrence that only happens in the worst 5 percent of droughts.
India is reporting that roughly 42 percent of the country is suffering abnormally dry conditions, a six-percent increase over last year's dry spell, with over 16 percent of the country listed as 'severely dry'. There are hopes that the coming monsoon season will bring much-needed rain, but forecasters are expecting less rain than normal.
Wildfires:
Hot and dry weather unfortunately leads to wildfires, and in addition to the fires in Florida, these same conditions are currently contributing to conflagrations that are raging in other parts of the globe. The Chuckegg Creek wildfire in Alberta, Canada, has now grown to half the size of 2016's historic Fort McMurray wildfire, prompting the evacuation of 11,000 people across numerous communities, with another 12,000 on evacuation alert. More than 2,300 firefighters and 228 helicopters are fighting the still out-of-control blaze.
Wildfires have also gutted forests in the Irkutsk, and Trans-Baikal regions of Eastern Siberia. Thousands of firefighters fought the 18,000-hectare (44,480 acre) blaze, while officials urged residents to keep their windows closed at all times, to wear damp masks and drink a lot of water.
"The New Normal"
"This is the new normal" is a now oft-repeated phrase heard when addressing extreme weather events, used by both laypersons and scientists alike. While we do have to anticipate and plan for a continued barrage of increasingly disruptive and destructive weather, the phrase may be indicative of an attitude of complacency that many appear to be slipping into.
"There's a risk that we'll quickly normalize conditions we don't want to normalize," warns Frances C. Moore of the University of California – Davis. Moore is the lead author of a study that measured attitudes toward extreme weather, and found that many people have short memories when it comes to what should be considered 'normal'. "We are experiencing conditions that are historically extreme, but they might not feel particularly unusual if we tend to forget what happened more than about five years ago."
Dreamland Video podcast
To watch the FREE video version on YouTube,
click here
.
Subscribers, to watch the subscriber version of the video, first log in then click on Dreamland Subscriber-Only Video Podcast link.