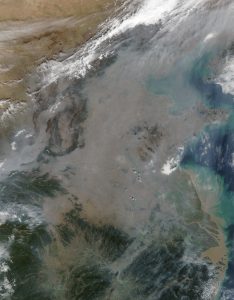 A two-month-long heat wave affecting large portions of China, declared the most severe in recorded history, is causing widespread drought across the country, drying up both rivers and crops, with hundreds of regions reporting record-breaking temperatures in excess of 40°C (104°F). This news comes at a time when many regions around the world, including eastern Africa, Europe, Mexico and the US, are also experiencing extreme heat and drought conditions.
This heat wave is the longest and hottest on record since China started keeping records in 1961, and according to weather historian Maximiliano Herrera this event is the most severe heat wave in global history, in terms of both temperature extremes and the duration of the event.
"This combines the most extreme intensity with the most extreme length with an incredibly huge area all at the same time," according to Herrera. "There is nothing in world climatic history which is even minimally comparable to what is happening in China."
On August 18 the city of Chongqing recorded a daytime high of 45°C (113°F), the highest ever recorded in China outside of the northwestern deserts of Xinjiang. Chongqing also recorded a nighttime minimum temperature of no less than 34.9°C (94.8°F), the highest minimum temperature ever recorded in China in August.
Accompanying the record-breaking heat are drought conditions that have drastically reduced the water levels of numerous rivers, with 66 having dried up completely; water levels for the Yangtze River are at their lowest since 1865, and numerous regions have resorted to trucking in drinking water.
These low river levels have also caused a reduction in hydroelectric power output, in turn causing industry in Sichuan province to halt or reduce operations, as 80 percent of the region's power is typically supplied by hydroelectric dams; the region is also under power rationing rules, with offices and shopping malls ordered to cut back on air conditioning and lighting to save electricity. In Hubei province, the world's largest hydroelectric dam, the Three Gorges Dam, was opened to allow water to flow down the Yangtze River to alleviate dry conditions downstream.
The dry conditions are also threatening food supplies, with Sichuan province alone losing over 47,000 hectares (116,140 acres) worth of crops, and another 433,000 hectares (1.1 million acres) suffering damage. China's Ministry of Agriculture has announced that they will try to increase rainfall amounts through cloud seeding, although such weather control methods are not always reliable.
Dreamland Video podcast
To watch the FREE video version on YouTube,
click here
.
Subscribers, to watch the subscriber version of the video, first log in then click on Dreamland Subscriber-Only Video Podcast link.