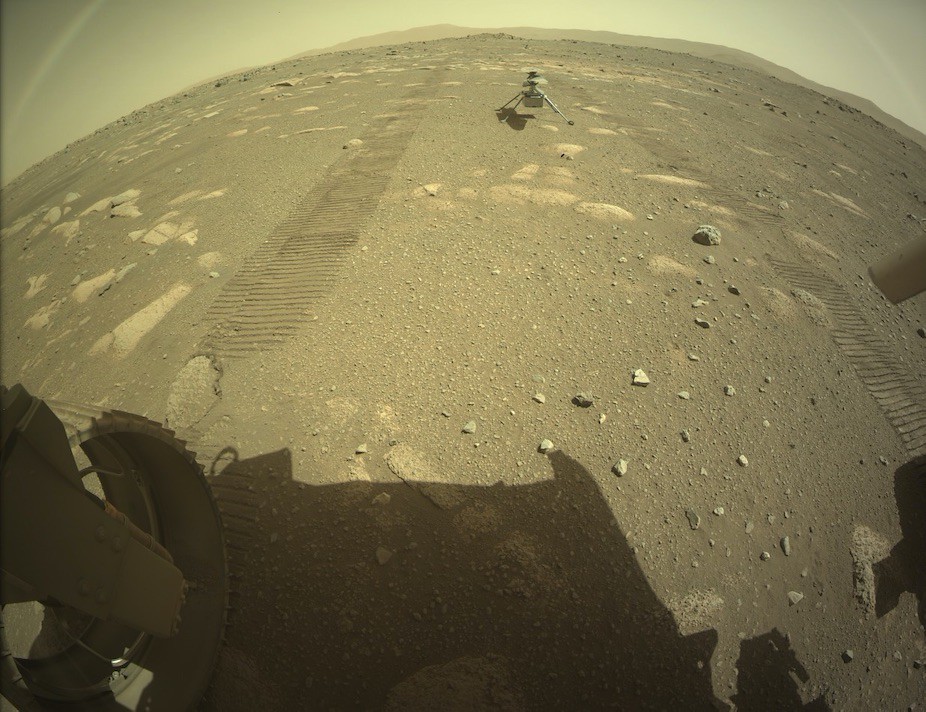 On April 28, Apollo 11 astronaut Michael Collins passed away at the age of 90, following a fight with cancer. And just as the Apollo 11 astronaut and space exploration pioneer departs the Earth, NASA's Ingenuity solar-powered helicopter makes history as the first aircraft to fly on another world.
On April 19, 2021, Ingenuity's 1.2-meter (4-foot) solar-powered rotors propelled the small helicopter to a height of 3 meters (10 feet) where it hovered in place for nearly 40 seconds while performing a 90-degree rotation, before setting back down on its takeoff point—the first flight of an aircraft on a planet other than Earth; up until now, all vehicles used to explore other bodies in the Solar System have been propelled by wheels, such as the Apollo Program's Lunar Roving Vehicle, or the numerous rovers currently exploring Mars.
Ingenuity has taken to the air three more times since its historic first flight: two further test flights, conducted on April 22 and 25, carried the aircraft 4.3 meters (14 feet) and 100 meters (328 feet), respectively. Its fourth flight took place on April 30, carrying it on a 266-meter (872-foot) round-trip lasting nearly two minutes. With a transmission delay of nearly 17 minutes between Earth and Mars, Ingenuity was programmed to execute these maneuvers on its own, with the nearby Perseverance rover filming each attempt and transmitting the information back to Earth.
"Now, 117 years after the Wright brothers succeeded in making the first flight on our planet, NASA's Ingenuity helicopter has succeeded in performing this amazing feat on another world," said Thomas Zurbuchen, NASA's Associate Administrator for Science. A piece of fabric from the wing of the Wright Flyer is carried by Ingenuity, and the helicopter's take-off and landing area has been dubbed Wright Brothers Field as a tribute to the pioneering aviators.
"While these two iconic moments in aviation history may be separated by time and 173 million miles of space, they now will forever be linked," Zurbuchen continued. "As an homage to the two innovative bicycle makers from Dayton, this first of many airfields on other worlds will now be known as Wright Brothers Field, in recognition of the ingenuity and innovation that continue to propel exploration."
Ingenuity's success opens the door for the use of aircraft to explore other worlds, such as airships that might study the clouds of Venus, or the Dragonfly octocopter planned to fly through the thick atmosphere of Titan; with an atmosphere more than four times denser than that of Earth's and a surface gravity less than one-seventh of our own, an aircraft would have a much easier time getting around on Saturn's cloudy moon than they would on Earth.
And as a new era of space exploration begins, another closes with the April 28 passing of Apollo 11 astronaut Michael Collins, at the age of 90. While crewmates Neil Armstrong and Buzz Aldrin made history as the first people to walk on the Moon, Collins kept the home fires burning for Armstrong and Aldrin aboard the Columbia command module.
A test pilot and major general in the U.S. Air Force Reserves, Collins first flew in space aboard Gemini 10 in 1966, performing an orbital rendezvous with two spacecraft and two spacewalks, alongside Command Pilot John Young. He retired from NASA in 1970 to accept a position in the Department of State as Assistant Secretary of State for Public Affairs, and shortly afterward became the director of the National Air and Space Museum. Following his tenure as undersecretary of the Smithsonian Institution, Collins took a job as vice president of LTV Aerospace, and eventually started his own consulting firm.
"Mike always faced the challenges of life with grace and humility, and faced this, his final challenge, in the same way," Collins's family said in a tweet. "We will miss him terribly. Yet we also know how lucky Mike felt to have lived the life he did. We will honor his wish for us to celebrate, not mourn, that life."
Image Credits:
News Source:
Dreamland Video podcast
To watch the FREE video version on YouTube,
click here
.
Subscribers, to watch the subscriber version of the video, first log in then click on Dreamland Subscriber-Only Video Podcast link.