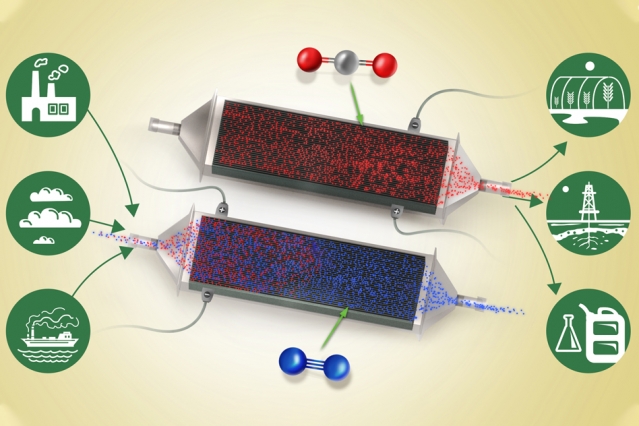 Engineers at the Massachusetts Institute of Technology have developed a new, energy efficient electrochemical-based device that can capture carbon dioxide from the atmosphere, the chief ingredient in anthropogenic-caused global warming.
This new device operates much like a battery, in that it can absorb carbon dioxide from air that is pumped through it, and then once it is full it exhales the CO2 into compressed canisters for collection. Inside the enclosed device are rows of electrically-charged plates coated with a special type of carbon nanotubes. When a low voltage—less than 2 volts were used to test the devices—CO2 is attracted to the plates and collects on the nanostructures coating them.
CO2-rich air is pumped through the device, collecting the carbon dioxide from the mix of gases, and the CO2-depleted air exits the device via the exhaust. When enough CO is collected on the plates, the electrical charge is reversed, expelling the gas from the surface of the nanotubes, and the pure CO2 can then be pumped into compressed canisters for collection.
The devices tested were effective at capturing CO2 from air with concentrations as low as 6,000 parts per million, and up to 10 percent per volume, with an efficiency of over 90 percent. The devices could also be run for over 7,000 cycles and only suffer a 30 percent drop in their absorptive efficiency. The device can be used not only in open air applications such as scrubbing CO2 directly from the surrounding atmosphere, but also in enclosed devices that could be used to collect CO2 from sources such as fossil fuel-based power plants.
"In my laboratories, we have been striving to develop new technologies to tackle a range of environmental issues that avoid the need for thermal energy sources, changes in system pressure or addition of chemicals to complete the separation and release cycles," explains T. Alan Hatton, a professor at MIT's David H. Koch School of Chemical Engineering Practice. "This carbon dioxide capture technology is a clear demonstration of the power of electrochemical approaches that require only small swings in voltage to drive the separations."
The development of carbon sequestration technologies is becoming more crucial as human-generated carbon dioxide builds up in the atmosphere, compounding the advance of global warming. Toward this end, Hatton's team has launched a company called Verdox to commercialize the devices: not only is the sequestration of carbon dioxide a boost to reducing the effects of global warming, but the captured CO2 can be sold to industrial interests, as it is useful in producing soft drinks, plant food, and carbon-based fuels.
Image Credits:
News Source:
Dreamland Video podcast
To watch the FREE video version on YouTube,
click here
.
Subscribers, to watch the subscriber version of the video, first log in then click on Dreamland Subscriber-Only Video Podcast link.