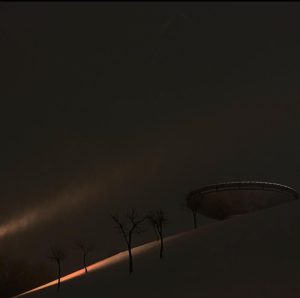 Astronomers in Ukraine have discovered an undeniable presence of 'unidentified aerial phenomena' in addition to the Russian warplanes criss-crossing the besieged nation's skies. This is apparently a common occurrence in the airspace over Ukraine's Capital city Kyiv—although the UAP often move too quickly to be captured on normal film or smartphone camera.
The research team, made up of astronomers with The National Academy of Sciences of Ukraine's Main Astronomical Observatory, employed two meteor recording stations in their survey; one installed in Kyiv and the other in Vinarivka, a village 120 kilometers (75 miles) south of the capital. Each observatory hosts two synchronized cameras capable of recording at 50 frames per second with an exposure time of less than one one-thousandths of a second.
These camera speeds were required to be effective in capturing phenomena that involve objects that move too fast for the human eye to see.
The team's research paper points out that "the eye does not fix phenomena lasting less than one-tenth of a second. It takes four-tenths of a second to recognize an event," meaning that these UAP move so fast that they're effectively invisible to the human eye. "Ordinary photo and video recordings will also not capture the UAP. To detect UAP, you need to fine-tune (tuning) the equipment: shutter speed, frame rate, and dynamic range."
The research team observed two distinct types of UAP on their recordings: luminous objects that they nicknamed "Cosmics" and dark objects they dubbed "Phantoms". "We note that Cosmics are luminous objects, brighter than the background of the sky," according to the study text. "We call these ships names of birds (swift, falcon, eagle). Phantoms are dark objects, with contrast from several to about 50 percent."
The luminosity of some of the "Cosmic" objects was also found to rapidly pulse, with some of the objects pulsing at 10 to 20 times per second. Conversely, some of the "Phantom" objects, zipping along at 15 km/s (54,000 km/h or 33,554 mph) at a distance of 10 to 12 kilometers (6.2 to 7.46 miles) were so dark that the researchers described them as having "zero albedo".
"This means that the object is a completely black body that does not emit and absorbs all the radiation falling on it," explains the study text. "We see an object only because it shields radiation in the atmosphere due to Rayleigh scattering," the effect of the atmosphere scattering upper-spectrum light, giving the sky its characteristic blue color.
Various combinations of these objects were recorded, with "flights of single, group and squadrons of the ships" being detected, and quickly traversing arcs of the sky "at speeds from 3 to 15 degrees per second," meaning the faster objects were capable of traveling from one horizon to the other in as little as 12 seconds.
And some of these objects are extremely fast: one of the "Cosmic" objects observed simultaneously by both stations was calculated to be at an altitude of 1,147 kilometers (713 miles) and traveling at 282 kilometers per second (1,015,200 km/h or 630,816 mph).
To put this speed into context the fastest man-made object, the Parker Solar Probe, can reach speeds of 690,000 km/h (430,000 mph) (0.064 percent of the speed of light!) at its closest approach to the Sun; although Parker's speed was obtained by the use of numerous gravity assists, the probe is still only moving at two-thirds of the speed of the UAP observed by the Kyiv astronomers.
Image Credits:
News Source:
Dreamland Video podcast
To watch the FREE video version on YouTube,
click here
.
Subscribers, to watch the subscriber version of the video, first log in then click on Dreamland Subscriber-Only Video Podcast link.