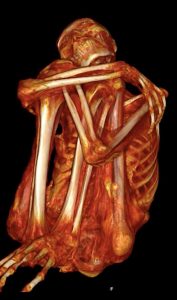 The Nazca mummies recently received a huge amount of publicity when Jaime Maussan presented his version of the story before the Mexican Congress. The weaknesses in this story immediately became an international news sensation. The New York Times picked it up and revealed that a paper has been published discussing the truth about the mummies that Maussan displayed: they are a strange mix of various animal parts, very cleverly constructed–but at least a thousand years ago! Maussan claimed that they were "alien bodies." US Navy pilot Ryan Graves, who has testified before congress about his own UAP sightings, expressed himself as being "deeply disappointed" by Maussan's "stunt."
There is a much bigger story here, and in this special edition of Dreamland, Whitley goes into it with William Galison who, with Theirry Jamin, has been working on the case since 2018. (Whitley has been involved since 2019.) The case has been kept relatively quiet in the interest of completing scientific work on the artifacts.
In this interview, William lays out the history of the Peru project and explains the truth about this world-class mystery. The mummies that Jaime showed are NOT aliens bodies. They are something created a thousand years ago for unknown reasons. But there are other, larger ones that Maussan could not obtain from Peru, which have revealed strange DNA results and anatomy that, under CT scans, does appear to be truly anomalous.
Go deep into what is quite possibly the greatest mystery in modern–or ancient–history with Whitley and William, who are both up on the very latest information from the REAL story.
Visit Theirry Jamin's alien project website here. Read the scientific paper referred to in the show and the New York Times article here.
Dreamland Video podcast
To watch the FREE video version on YouTube,
click here
.
Subscribers, to watch the subscriber version of the video, first log in then click on Dreamland Subscriber-Only Video Podcast link.