Archived podcast for paid Subscribers only. Please login to access.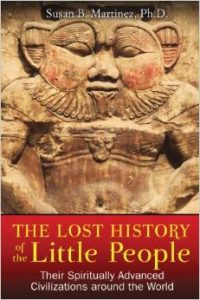 Susan B. Martinez offers an unexpected, fascinating and beautifully researched look at our ancestors. Big, convincing surprises!
Drawing on intriguing evidence of pygmy tunnels, dwarf villages, elf arrows and tiny coffins, Susan reveals the little people as the real missing link of prehistory, later memorialized as fairyfolk and many others around the world.
Susan B. Martinez, Ph.D., is a writer, linguist, teacher, paranormal researcher, and recognized authority on the Oahspe Bible with a doctorate in anthropology from Columbia University. The author of 3 books, including Time of the Quickening, she is the book review editor for the Academy of Spirituality and Paranormal Studies.
Dreamland Video podcast
To watch the FREE video version on YouTube,
click here
.
Subscribers, to watch the subscriber version of the video, first log in then click on Dreamland Subscriber-Only Video Podcast link.