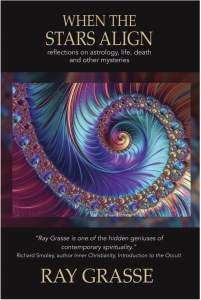 Famed astrologer Ray Grasse returns with a totally new vision of what might herald the coming of the visitors, what this has to do with the planets, and when it might happen. Over the years, there have been many claims regarding the date and reasons that the visitors will finally make themselves known. Many of us have the sense that something important is on the horizon – could this really be it?
Then, Whitley and Ray discuss the incredible discovery of a new Roswell witness to ANOTHER crash and what the year 1947 has to do with both the appearance of the Nag Hammadi manuscripts AND the Roswell Incident.
We often hear of the present described as "uncertain times" – but perhaps some chaos is needed to allow everything to fall into place.
Ray's insight, predictions, and deep understanding of the subtleties of the human journey offer a valuable window into what the future may hold for us.
Grasse's website is RayGrasse.com. To get When the Stars Align, click here.
Join our great social media groups, enjoy ALL of Dreamland and get access to SO MUCH MORE! Click here today!
Dreamland Video podcast
To watch the FREE video version on YouTube,
click here
.
Subscribers, to watch the subscriber version of the video, first log in then click on Dreamland Subscriber-Only Video Podcast link.