Archived podcast for paid Subscribers only. Please login to access.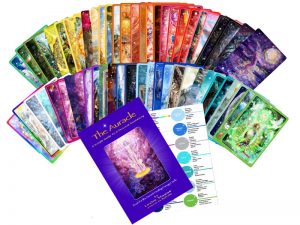 The Auracle Healing Cards are storytellers of your soul which combine work with your physical, emotional, mental and spiritual aspects to connect you more deeply to the truth of who you are. In this interview with Auracle reader Leslie Sloane, Marla Frees takes us on a journey into this powerful system of spiritual exploration.
Join Marla and expert Leslie Sloane on this adventure into the power and wonder of these cards. And, in the second half of the show, listen as Marla has a reading which reveals secrets about her own inner struggle and moves her deeply.
Learn more about Auracle Healing Cards at AuracleHealingCards.com.

Dreamland Video podcast
To watch the FREE video version on YouTube,
click here
.
Subscribers, to watch the subscriber version of the video, first log in then click on Dreamland Subscriber-Only Video Podcast link.