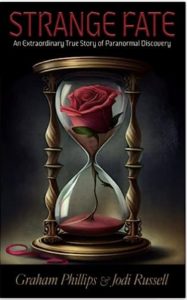 Almost 5 years ago, famed paranormal researcher Graham Phillips and historian and psychic Jodi Russell set out to penetrate the mystery of the lost Order of Meonia and its great treasure, the Heart of the Rose. There followed one of the great paranormal adventures ever discussed on this show. It involves the uncovering of a hidden code that led to a powerful artifact, a series of fantastic synchronicities, and bizarre changes in reality itself that stagger the imagination–but not Whitley's because he's experienced them, too!
It leads to a new understanding of the true meaning of the search for the Holy Grail, and the incredible power of the hidden energies that lie at the end of an ancient path the predates the Grail stories of the middle ages.
And, woven into all this, is an absolutely remarkable exploration of the real Alice in Wonderland, who, as Lewis Carroll always maintained, was not Alice Liddell.
Listen and Graham and Jodie describe first hand what it means to slip between parallel universes in a very real and tangible way, and learn how that relates to lost human powers that we urgently need to regain.
This is a Dreamland like no other. An absolute MUST! To get Strange Fate click right here!
Graham and Jodie will join us in the subscriber video conference room on Saturday, 28 at 11AM Pacific. DO NOT MISS this one!
Visit StrangeFate.net and GrahamPhillips.net.
Not an Unknowncountry.com subscriber? You're missing too much, and for just $4.95 a month, how can you go wrong?? Click here to view our plans from $350.00 lifetime to $4.95 per month.
Dreamland Video podcast
To watch the FREE video version on YouTube,
click here
.
Subscribers, to watch the subscriber version of the video, first log in then click on Dreamland Subscriber-Only Video Podcast link.