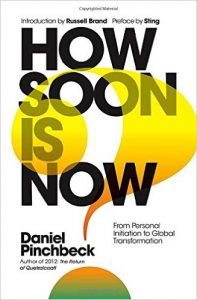 Both subscribers and nonsubscribers get to listen to the full, uninterrupted version of this important program as Whitley and futurist Daniel Pinchbeck discuss the changes that are unfolding all around us, from the rise of dictators and demagogues to the unexpected intensity of climate change.
On a weekend when a hurricane that the National Weather Service is describing as 'astounding' is hitting the US, the show makes important listening, precisely because it is about what we can do about our own future and how powerful we really are if we put our minds to it.
Rather than bemoaning our fate, Daniel goes deeper, exploring innovative solutions to the crisis that range from changing things like the nature of money to engaging with spirit in a whole new way.
This thoughtful, exciting, uplifting programming about the multiple crises facing mankind right now is not to be missed!
Daniel's website is Pinchbeck.io
Daniel has been a popular Dreamland guest since 2006. Subscribers can explore all of our Daniel Pinchbeck programming by clicking here.