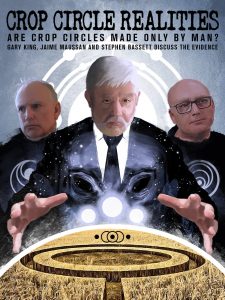 The crop circle mystery has faded with time. The general media took their cue from British Intelligence and debunked the whole story using the lie that they were created by men with boards, and that all the more complex ones are created by other men with better boards.
They are a crucially important communication, but they are not for governments, they are for ordinary people–which is why governments and the media don't want us to care about them or study them: They want to control the narrative, but the narrative doesn't belong them. It belongs to the circle makers and it belongs to US. This is why they're out there where anybody can see them. Somebody wants these beautiful, rich messages from the depths of other souls to be NOTICE–by us!
This week, Dreamland welcomes Darcy Weir and Gary King who, along with Stephen Bassett and Jaime Maussan, have created a new documentary called Crop Circle Realities that takes us on a wise, deeply moving and fascinating journey into the world of crop circles.
As it becomes impossible to deny that somebody is indeed here from some other world or reality, it is also becoming impossible to deny that the crop formations are indeed a message from an unknown mind. Listen and Darcy and Gary explore the possible meaning of that message with Whitley–and prepare to be amazed and awed. The message is not only real, it is powerful and full of beauty and hope as well as warning.
Video watchers, please note that a production error caused Gary King's image not to be visible until 8 minutes into the video.
Watch the Crop Circle Realities trailer: Click here. To get the documentary on Vudu, click here. To get it on Microsoft, click here.
To find out about Darcy's other films, click here.
Dreamland Video podcast
To watch the FREE video version on YouTube,
click here
.
Subscribers, to watch the subscriber version of the video, first log in then click on Dreamland Subscriber-Only Video Podcast link.