Whitley solos for our Easter show, discussing everything from the why of secrecy to the equally important why of the fact that the government is trying to back down from further public disclosure. Where will it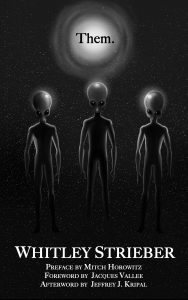 all lead?
What can we expect and who is behind the continual refusal to come clean? Then he shifts to climate and, as usual, proposes a new theory based on the ignored Superstorm scenario that explains why this has been such a strange winter, alternately much wetter and colder than normal in some places and drier and warmer in others. He shows how the current weather pattern, while defying conventional wisdom, actually has an astonishing historical precedent.
Next week we return to our usual format.
Get Whitley's amazing new book Them. Click here.
Dreamland Video podcast
To watch the FREE video version on YouTube,
click here
.
Subscribers, to watch the subscriber version of the video, first log in then click on Dreamland Subscriber-Only Video Podcast link.