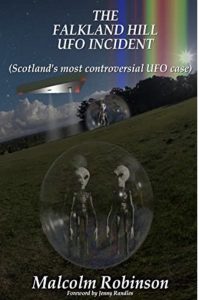 Scottish UFO researcher Malcolm Robinson has been at it for 40 years. His patient, careful work has documented many a UFO sighting and encounter, and here he tells us about his amazing life, which includes searching Loch Ness in a submarine and discovering unknown sonar returns to careful study of the Falkland Hill UFO Incident, a case involving many people and–incredibly–also many grays.
What are the grays? What are we? How can we explain things like the taking of sexual material? Add to that a riveting description of a profoundly convincing multiple-witness UFO contact event, that included a triangle UFO coming to the ground and much more, and you have a priceless journey deep into the wonder of UFOs, visitors and the high strangeness of just being human!
Get the Falkland Hill UFO Incident from us. Click here!
Not a subscriber even yet? C'mon, get aboard so you can listen to all our great shows and so much more and video conference with our guests! Click here.
Dreamland Video podcast
To watch the FREE video version on YouTube,
click here
.
Subscribers, to watch the subscriber version of the video, first log in then click on Dreamland Subscriber-Only Video Podcast link.