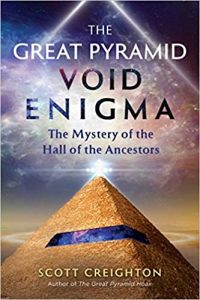 Dreamland this week: There is a void in the Great Pyramid at Giza. What is in it? What is it telling us about the lost past and maybe the future? Renowned expert Scott Creighton reveals research that suggests that what may be found in the void is going to not only turn our understanding of ancient Egypt upside down, but that there might also be a message for us and for the future still to be found in the pyramids and on the Giza Plateau.
This interview goes way beyond the story of the void, delving into what the ancient Egyptians may have been trying to tell us via messages encoded in various ways at Giza and other places in Egypt. The interview touches on a strange book originally published in 1957 called The Adam and Eve Story, which was originally classified by the CIA for unknown reasons. It deals with pole shifts and axial wander, which may be the cause of the great flood and upheavals that have been recorded in the past. You can read and download a copy of the complete and uncensored Adam and Eve story by Chan Thomas here.
But to get the FULL STORY, you need The Great Pyramid Void Enigma, which updates and expands Chan Thomas's research and goes far beyond it. Learn about the different types of pole shift, including those that have caused vast floods and destruction in the past, and will do so again. Don't miss this great book! Click here to explore and order.
Dreamland Video podcast
To watch the FREE video version on YouTube,
click here
.
Subscribers, to watch the subscriber version of the video, first log in then click on Dreamland Subscriber-Only Video Podcast link.