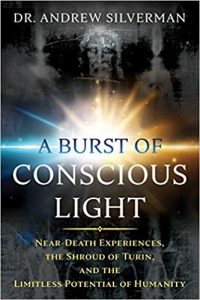 In this stunner of an interview, Whitley brings his own knowledge of the Shroud of Turin to a conversation with a true expert, Dr. Andrew Silverman. The result is one of the deepest, most inspiring and just plain amazing editions of Dreamland ever published. Despite the relentless debunking, the evidence that the shroud really is the burial cloth of a unique man is now overwhelming. But who was that man and what happened to cause his dead body to leave the image that is on the Shroud–and, above all, why is it so important that we understand this in the here and now?
Explore the wonder of the Shroud as it relates to the physics of space-time and the reality of our world and life as we perceive it. This is a truly extraordinary discussion, the sort of thing that you simply will not hear anywhere else except on Dreamland. Don't miss this one!
Get A Burst of Conscious Light! Click here.
Dr. Andrew Silverman's website is Light of the Shroud.com
Dreamland Video podcast
To watch the FREE video version on YouTube,
click here
.
Subscribers, to watch the subscriber version of the video, first log in then click on Dreamland Subscriber-Only Video Podcast link.