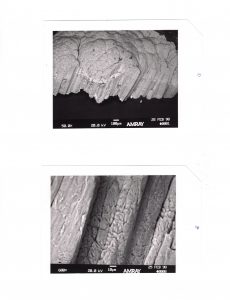 I received a sample of the magnisium-bismuth material that TTSA presently has under analysis from Art Bell in the mid-nineties. In February of 1998, it became possible for me to obtain an analysis of it from William Mallow, then the head of materials science at the Southwest Research Institute in San Antonio. Dr. Mallow examined some small metal objects and also a piece of what appeared to be slag, which proved to be layers of bismuth and magnesium. I am aware that some of this material was given to me and some to Linda Moulton Howe. Tom DeLonge of TTSA now has some of the material. It was not obtained from me.
The SEM Scan revealed the material to be layers of bismuth and magnesium. The magnesium appears to be in a foamed state, with tiny bubbles within it. There is nothing about either the bismuth or the magnesium to indicate that it is in any way unusual, except that the condition of the magnesium was not familiar to Dr. Mallow. It appeared to be some sort of slag, or possibly residue from a Betterton-Kroll process, but this latter conclusion was dismissed because it does not explain the presence of the magnesium, and nothing explains how the materials remain together. The Betterton-Kroll theory has been repeated recently in media stories.
A number of micrographs of the material were obtained, of which one at 50x magnification and another at 600x magnification are shown here.
However, when imaged at 600x magnification in the scanning electron microscope, no adherent was observed between the bismuth and the magnesium. The areas between the alternating layers are clear of any substance. The conclusion was that, while the materials themselves were unremarkable, the fact that the amalgam was holding together despite there being no adherent could not be explained.
Dreamland Video podcast
To watch the FREE video version on YouTube,
click here
.
Subscribers, to watch the subscriber version of the video, first log in then click on Dreamland Subscriber-Only Video Podcast link.