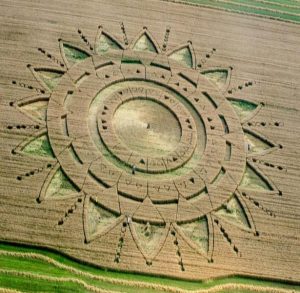 On June 28 in a field near Torino, Italy, a magnificent crop formation appeared. Like the Crabwood formation of 2002, this formation contains at least one message, and the one that we have thus far been able to translate should be considered carefully, as it echoes the warning in the Crabwood formation. Both formations contain readable messages in simple binary code. The Torino formation's readable binary is in sixteen lines arranged along the outer ring of the formation. There is more code in the inner rings, but so far translation has not been successful. It might be significant that Turin is known as "the cradle of Italian liberty."
Both formations contain similar warnings, essentially that we should be wary of extraterrestrials, a concern echoed by astrophysicist Stephen Hawking. Hawking has said that aliens "would be only limited by how much power they could harness and control, and that could be far more than we might first imagine…Such advanced aliens would perhaps become nomads, looking to conquer and colonize whatever planets they can reach..I imagine they might exist in massive ships, having used up all the resources from their home planet…If aliens ever visit us, I think the outcome would be much as when Christopher Columbus first landed in America, which didn't turn out very well for the Native Americans."
The Crabwood formation's binary message translates into English as follows: ""Beware the bearers of FALSE gifts & their BROKEN PROMISES. Much PAIN but still time. BELIEVE. There is GOOD out there. We oPpose DECEPTION. Conduit CLOSING" Torino echoes this concern with its message. It is in Latin, and appears to be a contraction from a famous line in the ancient Roman poet Virgil's Aeneid. The first word is "timeo," which means "dread." The second is "et" which means "and" in Latin, but in modern vernacular is used to mean "extraterrestrial." The third word, "ferentes" in Latin is the nominative masculine of "ferens," to bear. Virgil's line is "Timeo Danaos et dona ferentes," "Beware of Greeks bearing gifts." It is a reference to the Trojan Horse, which was used to deceive the Trojans into letting Greek soldiers into their walled city. The soldiers then opened the gates and Troy fell.:
The Aeneid is about the journey of Aeneas, a refugee from Troy who traveled to Italy and became one of the founders of Rome.
So, does the Torino formation contain a warning: "Beware ET bearing…" Would that be gifts, perhaps? Beware ET bearing gifts?
In his book "Solving the Communion Enigma" Whitley Strieber pointed out that benevolent extraterrestrials and malevolent ones might both keep their presence in our world secret, but for different reasons. Malevolent ones might be exploiting us or our planet in some way that we don't understand, but would object to if we did. So they would certainly keep their presence and activities secret. Benevolent ones would possibly have the same motive, the reason being that they would be concerned that the culture shock attendant upon our discovering just how advanced they really are would cause our own scientific and cultural evolution to be catastrophically interrupted. We would go from being masters of our world to supplicants in theirs. The result would be that one of the few things that might interest them about us–perhaps the only thing–which is our ability to innovate, would be lost.
He makes reference to a paper published by D.B.H. Kuiper and Mark Morris in the April, 1977 edition of the magazine Science in which they state, "knowledge, in a general sense, that encompasses science and culture, is likely to be most highly prized by an advanced civilization." And then comes what could be the primary reason that the intelligence that is here appears to be so interested in concealing its observation of us behind a cloud of questions: "Before a certain threshold is reached, complete contact with a superior civilization (in which most of their knowledge is made available to us) would abort further development through a 'culture shock' effect."
But the messages in these two crop formations don't raise questions. The offer clear warnings, so it's worth considering how advanced nonhumans might want to exploit us and our planet. There are really just a few possibilities. First, there could be something about us that has value. One of the darkest hidden veins in the close encounter lore is that we have souls, and they can be captured and used in what are essentially machines so extremely advanced that we cannot now even conceive of what they do. Another, better known fear is that they may be harvesting our sexual material for their own purposes. A third possibility is that there is something about Earth and what it contains that they wish to harvest, but which we might want to retain if we knew what they were doing.
None of these negative motives suggest that ET would ever want to reveal himself, not as long as the harvest, whatever it may be, can continue uninterrupted. So what would the motive of negative ETs be for revealing themselves?
Actually, it would be exactly the same as that of benevolent ones: if we are indeed in an extinction event, if Earth is going to become unable to support us, then both benevolent and malevolent ETs end up with the same motive: both would want to preserve the species and/or preserve the planet.
But they would probably go about it differently. Benevolent ETs, wishing to preserve our spontaneity and cultural vitality, would minimize direct contact while doing things to help us survive. Malevolent ones, interested not in preserving culture but only in making certain that we continue to survive, might be more open in their approach.
Thus is revealed the inner meaning and truth of the two warnings: if ET appears openly and wears a mask of benevolence, be careful, because that smiling mask is likely to conceal the most dangerous deception that mankind has ever known.
Image copyright 2015 Valeria Margherita Zanola
Read more about the Crabwood formation on Crop Circle Connector.

Dreamland Video podcast
To watch the FREE video version on YouTube,
click here
.
Subscribers, to watch the subscriber version of the video, first log in then click on Dreamland Subscriber-Only Video Podcast link.