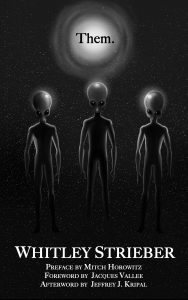 Whitley's explosive new book Them is now available on Kindle and in paperback. It will be published in hardcover and as an audiobook read by Whitley as soon as possible. Them is not about his personal experiences, but rather offers completely new insight into close encounter, both civilian and military. It also discusses the long struggle the military has had with the phenomenon, and reveals for the first time a clear explanation of exactly what insiders are working on in response to this provocative presence in human life.
In the preface, Mitch Horowitz calls it the most important book on the subject since Jacques Vallee published Passport to Magonia in 1969, and in his foreword, Dr. Vallee says that it "cites fact after fact to build the case for in-depth realignment of public policy with public need." An in-depth analysis of eleven close encounter stories reveals that the experience is far beyond anything ever discussed before anywhere, and a deep dive into the military side of the equation makes a strong case that there have been hostilities between US armed forces and UFOs since the 1940s, and that military personnel have suffered the consequences.
John Alexander, Leslie Kean, Colm Kelleher, George Knapp, Diana Walsh Pasulka, Hal Puthoff and Jim Semivan have all written reviews in support of the book, and Jeff Kripal has added an afterword that discusses his communications with Whitley during the writing of the book when he was forced by some horrendous and extremely bizarre assaults to leave the country in order to continue writing.
Them will shake the world of UAP and close encounter studies as no book ever has. To learn more and get the book via our Amazon link, click here.
Dreamland Video podcast
To watch the FREE video version on YouTube,
click here
.
Subscribers, to watch the subscriber version of the video, first log in then click on Dreamland Subscriber-Only Video Podcast link.