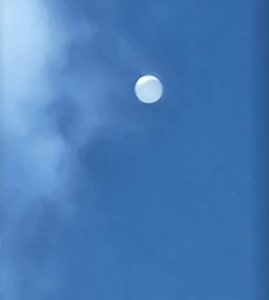 UPDATE:2/12/23 4:00PM PT CHINA REPORTS CYLINDRICAL OBJECT: According to Chinese State Media Global Times, citing local authorities, an object has been detected near Rizhao on the Yellow Sea and the military is preparing to shoot it down.
An insight article has been posted on Uknowncountry exploring the possibility that three more objects that have been sot down following the February 4 destruction of a Chinese spy balloon could be of extraterrestrial origin. The three objects shot down so far have all been motionless or slow moving, unlike what is typically seen in UAP of unknown origin. While such UAP are sometimes seen to be slow-moving close to the ground, or even stationary for brief periods, they are not often observed to be stationary and rarely, if ever, to be moving in wind drift at high altitude. An exception to this was the Camarillo, California UFO which appeared stationary in the sky over that community for six years running during the 1990s and into the early 2000s. However, pilots also reported that one of the objects interfered with their onboard sensors and seemed to possess no propulsion system.
The Biden Administration has made a statement that the objects shot down over Alaska and Canada are not thought to be extraterrestrial in origin. To find out more, click here to read our new Insight article. Includes an excerpt from Whitley Strieber's forthcoming book "Them."
To read a list of high altitude events in 2023, click here.
A comment from Whitley Strieber: If this is an action taken by our visitors, they are assessing our reactions. If so, then objects will also appear over Russia if they are not already doing so. Many years ago, I understood that conditions under which they might act would be the immediate danger of nuclear war and/or environmental collapse. Both things seem closer than ever at this time. If this is them and they are acting, then there will be more focused and concrete developments over whatever timeline they have chosen.
On balance, though, if I had to bet, I'd say that the following scenario explains what's happening:
1. The US developed a technology that would seek and find slow moving airborne objects and deployed it.
2. The Chinese were surprised when we were able to detect and shoot down one of the balloons they had been sending over our country for years.
3. Now that the Chinese knew we had this capability, there was no reason to keep it under wraps and we began to use it to shoot down low-powered slow moving dirigibles that run for long durations on a combination of batteries and solar power, and contain miniaturized electronic sensors and possibly optics.
4. The one that interfered with jet sensors was equipped with countermeasures that would steer it away from civilian aircraft and the emanations from this system was what the military jet, with its much more complex signalling profile, detected.
5. By claiming that they have detected a device and are planning to shoot it down, the Chinese are trying to make it appear as if they possess the same technology, as they may.
And then again, if it is the visitors it won't surprise me. I learned long ago never to second-guess that remarkable, complex and secretive presence.
Dreamland Video podcast
To watch the FREE video version on YouTube,
click here
.
Subscribers, to watch the subscriber version of the video, first log in then click on Dreamland Subscriber-Only Video Podcast link.