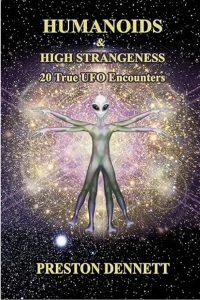 Great show with Preston Dennett about his new book covering humanoid (and other) encounters. Whitley and Preston have great rapport as Preston tells some really excellent stories and Whitley brings his deep knowledge of the close encounter experience to the table.
A young boy in Austria ends up in a UFO…and it turns out to be similar to the Villas-Boas case from Brazil. (One happened in 1954, the other in 1957). So, were the same type of humanoid involved in both cases?
In another story, a young girl encounters a mantis being–much like what Jacques Vallee and Paola Harris reported that the children saw during the Trinity encounter.
A child finds what we now think of as a gray trying to ride a bicycle. It tells her that she won't be harmed and she leaves the area…only to find when she gets home that she has an hour of missing time.
The show is full of great stories like these, stories of a kind that used to be automatically dismissed (and still are in some circles), but now that we know that alien bodies were found in some of the crashed disks (according to David Grush) should we be so quick to dismiss such high strangeness tales?
Enjoy this fascinating show with Preston, a true master of UFO and close encounter research.
Connect with Preston on his YouTube channel: UFO and Alien Encounters with Preston Dennett
Preston will be in our subscriber video chat room on Saturday, Nov. 11 at 10AM Pacific. To join, log in to your Unknowncountry subscription and click here.
Not a subscriber? Treat yourself for just $4.95 a month! Click here to get started.
Dreamland Video podcast
To watch the FREE video version on YouTube,
click here
.
Subscribers, to watch the subscriber version of the video, first log in then click on Dreamland Subscriber-Only Video Podcast link.