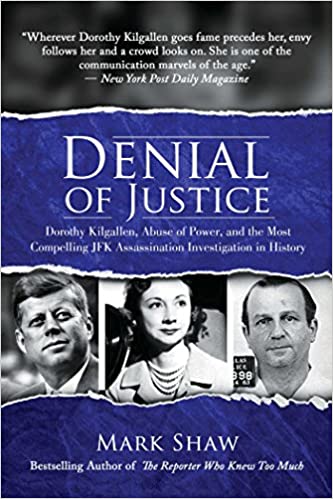 World-famous reporter Dorothy Kilgallen died just as she was about to give her explosive book about the JFK assassination to her publisher and friend, Bennett Cerf, the founder of Random House. The manuscript has never been found.
Whitley writes, "When I decided to start Dreamland's new conspiracy series, I wondered where to begin. How it turned out to be with the Dorothy Kilgallen story is a story in itself!" And you'll hear that story in this amazing show. You might ask yourself, 'who was Dorothy Kilgallen and why should we care? It's a fair question, and when you listen to this terrific interview with one of the world's great investigative reporters, Mark Shaw, you will understand perfectly why her apparent murder probably prevented the exposure of the entire JFK assassination coverup.
When she died, Dorothy Kilgallen was nearly finished with what promised to be one of the most explosive books ever written. She believed that she had cracked the JFK assassination case. She told friends that she feared for her life. She said, "I'm going to buy a gun." Then she was found dead in her Manhattan townhouse under what proved to be very unusual circumstances. The death was ruled an accidental overdose of sleeping medication, but, as Mark Shaw demonstrates, there are a whole lot of reasons to believe that simply is not true.
So what DID happen and why? And why is the JFK case so important? As Whitley says during the show, after the assassinations of JFK and RFK, shadowy criminal elements became more powerful than the US government–in fact, they began to control it. They still do.
Mark will also be appearing in our subscriber video room on October 24 at 11AM Pacific. Don't miss this unique opportunity to ask your questions of one of the most prolific and accomplished investigative reporters in the world!
You can find out more about Mark's work and order his books at MarkShawBooks.com. Learn more about Dorothy Kilgallen and the JFK assassination at TheDorothyKilgallenStory.com.
Dreamland Video podcast
To watch the FREE video version on YouTube,
click here
.
Subscribers, to watch the subscriber version of the video, first log in then click on Dreamland Subscriber-Only Video Podcast link.