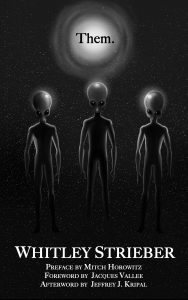 30 years ago "Drew" read Communion and sat down to write Whitley Strieber a letter. In it, he described an hours-long ordeal with "pure evil" that tried to remove him from his body for unknown reasons. The letter is shocking but, very frankly, nothing can prepare you for his actual testimony. You will listen and watch as a good man describes what it is like to be attacked by evil and to defeat it. Toward the end of the show, there will be an unexpected segue into a very strange direction involving something that has always been assumed to be a conspiracy theory fantasy, Project Blue Beam. When it comes up, the mystery of why the project may have been named Blue Beam in the first place becomes chillingly clear. It was a reference to something very different from the alleged objectives of the project, an actual beam of evil energy that is designed to deceive.
Listen carefully to this show. It is one of the few descriptions of the battle between good and evil as it actually plays out in a physical human life. Listen and reflect: Drew survived the attack. How many others have not?
Get your copy of Them today. Click here. Drew is an artist. To see his work, click here.
Dreamland Video podcast
To watch the FREE video version on YouTube,
click here
.
Subscribers, to watch the subscriber version of the video, first log in then click on Dreamland Subscriber-Only Video Podcast link.