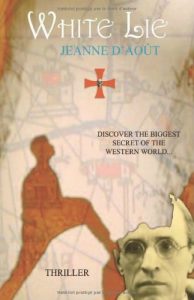 Do secret, underground laboratories exist where 'big brains' work on secret inventions for unknown employers?
In her inspiring, provocative and sweeping book, White Lie, Anneke Koremans, aka Jeanne D'aout takes us inside the biggest secret in the western world. She is here today to talk about her book and the lure of the Languedoc.
Revelations guest, Andrew Gough, says "White Lie reveals more shocking truths than any book since The Da Vinci Code, including the identity of the real Indiana Jones. It would not surprise if it was adapted for the big screen soon."
The secrets she discusses are so deep, they can only be told this way.
If you have been following the path of the grail mysteries, especially those of Rennes-le-Chateau, you will know Annake's work. She is a private guide and expert on the history and mysteries of this powerful X spot.
For over 35 years she has been researching the hidden history of mankind, and its religious and cultural path through the past. She has visited many countries including Italy, Greece, Turkey, Israel and Egypt. In 2000 she and her husband, Peter, settled on Occitan soil. She has since discovered just how rich this area is, how important its role was throughout history and still is.
With this books she shares her findings, as well as some of the teachings that she has found illuminating. She hopes to heal a few wrongly damaged reputations while she's at at it. Learn more about Anneke at http://whiteliepresspage.blogspot.com
or Facebook.
Ascend the Stairway to Heaven with William and Clare Henry this fall! They're conducting another of their five-star tours to Southern France, the Languedoc and Rennes le Chateau September 15--24. These legendary tours sell out fast, so if you're ready to ascend, sign up today! To learn more, click here.
ARE YOU A SUBSCRIBER?
Login now to download the MP3 files and any other subscriber-only material for this show.
NOT A SUBSCRIBER?
Please join us. Unknowncountry is a unique and important project, and it cannot survive without your support. To explore our options,
click here