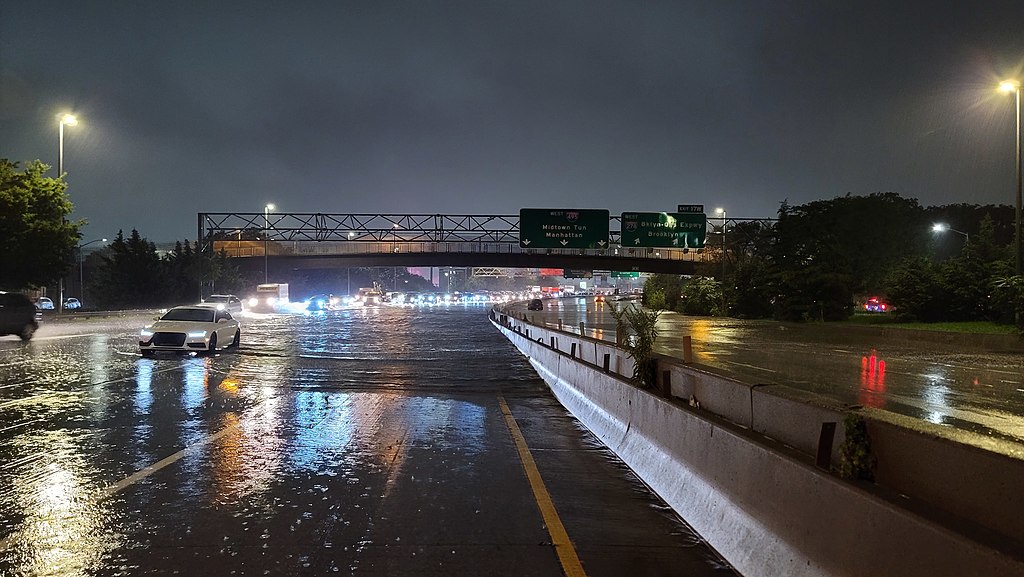 Hurricane Ida's destructive appearance marks the first Category-4 hurricane of the 2021 Atlantic hurricane season, causing massive damage and flooding across the state of Louisiana. The storm's impact was compounded by the resilience of its powerful Category-4 winds, a tempest that held on to its open-water strength—even hours after the storm made its way over open land. A second harbinger of global climate change is the warmer weather which lead to increased moisture in the air, and heavier, sustained rainfall throughout the storm's path.
Ida made landfall on the Louisiana coast as a Category-4 hurricane on August 29, with sustained winds blasting at 150 mph (240 km/h) and a central pressure of 930 mbar. Typically, this is where most hurricanes would start to lose steam, deprived of the warm water that fuels these powerful weather systems. But Ida barely flinched as it rampaged ashore, losing a mere 5 mph (8km/h) two hours after making landfall. At the four-hour mark Ida's winds were still howling away at 130 mph (209 km/h), and at ten hours it had only downgraded to a Category-2 storm, with winds of 105 mph (169 km/h); a normal hurricane would typically die down to 100 mph (161 km/h) and 70 mph (113 km/h) at the four and ten hour marks, respectively.
So why did Ida continue to rage as if the ocean was still there, despite being well over land for nearly half a day? Southern Louisiana's swampy geography extends well inland, providing ample moisture for the storm to feed off of, in addition to what is known as the "brown ocean effect" where the heat from moist soils can also fuel the engine of a tropical storm. Ida also caused a strong storm surge to inundate the state's swamps and marshes, adding warm waters from the Gulf to the inland fray—basically, Ida brought its own ocean along for part of the journey.
That storm surge also caused a peculiar effect on the Mississippi itself, causing the river to flow backwards—south to north—for a number of hours. Before the storm, the Mississippi was discharging approximately 350,000 cubic feet (9,910 cubic meters) of water per second into the Gulf, but saw 40,000 cubic feet (1,132 cubic meters) per second temporarily move upstream when the storm surge turned the tables on the mighty river. While a reversal such as this is not a unique phenomenon, it does illustrate how powerful the storm surges generated by hurricanes like Ida can be.
After her first phase the storm had killed at least four people and caused an estimated 15 billion dollars in damage; Hurricane Ida also caused widespread blackouts across New Orleans, leaving over a million residents without power. Winds gusts at Port Fourchon, where Ida made landfall, were recorded at 172 mph (277 km/h). Ida is the second most intense hurricane to strike Louisiana (2005's Hurricane Katrina being the first), and tied in terms of maximum wind speed for the state with both last year's Hurricane Laura and 1856's Last Island hurricane.
Ida's 2021 predecessors, while not as strong as the Category-4 storm, have continued the trend of pushing the formation of strong tropical storms earlier in the year, with May 22nd's Tropical Storm Ana making 2021 the seventh consecutive year that a storm started before the official hurricane season. June 2021 was also the most active month of June on record, tying with 1886, 1909, 1936 and 1968, with three named storms forming.
Although its powerful winds have been downgraded since the hurricane walloped the Louisiana coast on August 29, Ida's remnants continue to pour heavy amounts of rain along its path, roughly following the Interstate 95 corridor after merging with a regular storm system.
States of emergency have been declared in New York and New Jersey—including New York City itself—due to severe flooding caused by the remnants of Hurricane Ida. At least 40 deaths occurred between the evening of September 1 and the following morning along the East Coast, stretching from Maryland to New York. The storm system spurred overflowing rivers, tornado damage and filled "low-lying apartments with water and turn[ed] roads into car-swallowing canals," according to the Associated Press.
"Sandy had nothing on this," according to Elizabeth, NJ resident Jennifer Vilchez, referring to 2012′s Superstorm Sandy.
"We did not know that between 8:50 and 9:50 p.m. last night, that the heavens would literally open up and bring Niagara Falls level of water to the streets of New York," said New York's Governor Kathy Hochul. New York City Mayor Bill de Blasio said that the forecast he had received called for 3 to 6 inches (7.5 to 15 centimeters) to fall on the city over the course of the day, but Central Park wound up receiving 3.15 inches just in one hour, breaking a record set only two weeks before of 1.94 inches (5 centimeters), courtesy of Tropical Storm Henri.
17 trains were trapped in the city's subway tunnels, prompting the cancelation of MTA train service throughout the night and into the morning. It appears that all stranded passengers in this instance have been rescued.
Others in the region, however, drowned as their basement apartments flooded. Pennsylvania's Schuylkill River reached levels not seen in over a century, with the rising water flooding homes, collapsing buildings and stranding motorists in their cars. Parts of Johnstown, PA, were evacuated on September 1 after a dam near the town threatened to breach.
Although flooding caused by hurricane remnants is not an unusual phenomenon, experts are pointing out that this situation is being exacerbated by climate change, due to warmer air being able to hold more moisture. When rain this heavy falls over urban areas it is unable to be absorbed by ground that has been paved over, resulting in an increased risk of flooding.
Dreamland Video podcast
To watch the FREE video version on YouTube,
click here
.
Subscribers, to watch the subscriber version of the video, first log in then click on Dreamland Subscriber-Only Video Podcast link.