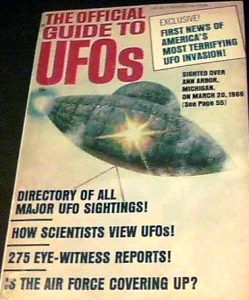 On May 17 a Congressional hearing will be held on the subject of unidentified aerial phenomena—the first such hearing held regarding UFOs in over half a century. Testimony will be presented by two top-level Pentagon officials, and will be focused on how to reduce the stigma associated with the subject of UAPs that discourages US military personnel from reporting their encounters with anomalous phenomena.
Tuesday's hearing has been called by the House Intelligence Subcommittee on Counterterrorism, Counterintelligence and Counterproliferation, and two high-level Pentagon officials are scheduled to testify at the hearing: Under Secretary of Defense for Intelligence and Security Ronald S. Moultrie; and Deputy Director of Naval Intelligence Scott W. Bray.
Congress has not held hearings on UFOs since Project Blue Book was closed in 1970, leaving a 52-year gap in the government's public addressment of the subject; after the Condon Committee published their controversial 1969 report that dismissed the legitimacy of the UFO phenomenon, the Air Force washed its hands of the issue, stating that "no UFO reported, investigated, and evaluated by the Air Force has ever given any indication of threat to our national security. There has been no evidence submitted to or discovered by the Air Force that sightings categorized as "unidentified" represent technological developments or principles beyond the range of present-day scientific knowledge."
A change in attitudes toward the UAP phenomenon, prompted in 2017 by the revelation of the Advanced Aerospace Threat Identification Program (AATIP) and release of three key UFO videos recorded by US Navy personnel, has rekindled interest in the subject amongst federal lawmakers, especially from a national security and aviation safety perspective.

"Since this is an area of high public interest, any undue secrecy can serve as an obstacle to solving the mystery, or it could prevent us from finding solutions to potential vulnerabilities," stated Committee Chair Representative André Carson (D-IN). "This hearing is about examining steps that the Pentagon can take to reduce the stigma surrounding reporting by military pilots, and by civilian pilots."
"The federal government and intelligence community have a critical role to play in contextualizing and analyzing reports," according to Representative Adam Schiff (D-CA), Chair of the House Intelligence Committee. Shiff said that the purpose of the hearing was to explore "one of the great mysteries of our time and to break the cycle of excessive secrecy and speculation with truth and transparency."
Dreamland Video podcast
To watch the FREE video version on YouTube,
click here
.
Subscribers, to watch the subscriber version of the video, first log in then click on Dreamland Subscriber-Only Video Podcast link.