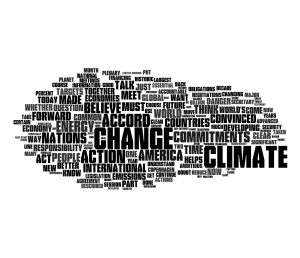 A new report from the United Nations predicts that the combined climate pledges of the 193 countries that have signed the Paris Agreement are insufficient to keep global temperatures from rising above 1.5°C (2.7°F) by the end of the century, and expect temperatures to instead increase by 2.5°C (4.5°F) over the same time period.
Although this year's assessment, detailed in the Nationally Determined Contributions Synthesis Report, is more optimistic than last year's prediction that global greenhouse gas emissions will rise by 13.7 percent by 2030, the 2022 report still forecasts a 10.6 percent increase in emissions over 2010 levels by the end of the decade. Although projections indicate that emissions are not expected to increase after 2030, they are also not expected to decline at a rate necessary to keep temperature increases below the 1.5°C target.
"The downward trend in emissions expected by 2030 shows that nations have made some progress this year," explains Simon Stiell, Executive Secretary of UN Climate Change. "But the science is clear and so are our climate goals under the Paris Agreement. We are still nowhere near the scale and pace of emission reductions required to put us on track toward a 1.5 degrees Celsius world. To keep this goal alive, national governments need to strengthen their climate action plans now and implement them in the next eight years."
The UN's Intergovernmental Panel on Climate Change (IPCC) has found that carbon emissions need to be cut by 43 percent over the next seven years in order to keep global temperatures from rising 1.5°C above the pre-industrial average. Unfortunately, only a small number of pledge updates from individual countries have been submitted since last year's Climate Change Conference, despite an agreement by all parties to reevaluate their climate commitments; however, those that did update their commitments indicated their intention to improve greenhouse gas emission reduction efforts by the end of the decade.
"At the UN Climate Change Conference in Glasgow last year, all countries agreed to revisit and strengthen their climate plans," remarked Stiell. "The fact that only 24 new or updated climate plans were submitted since COP 26 is disappointing. Government decisions and actions must reflect the level of urgency, the gravity of the threats we are facing, and the shortness of the time we have remaining to avoid the devastating consequences of runaway climate change."
Stiell is calling on the world's governments to revisit their respective countries' climate change plans and to fortify their commitments to achieve their goals when their delegates attend the 2022 UN Climate Change Conference (COP27) in Sharm El Sheikh, Egypt, this November.
"COP 27 is the moment where global leaders can regain momentum on climate change, make the necessary pivot from negotiations to implementation and get moving on the massive transformation that must take place throughout all sectors of society to address the climate emergency," Stiell said.
Image Credits:
News Source:
Dreamland Video podcast
To watch the FREE video version on YouTube,
click here
.
Subscribers, to watch the subscriber version of the video, first log in then click on Dreamland Subscriber-Only Video Podcast link.