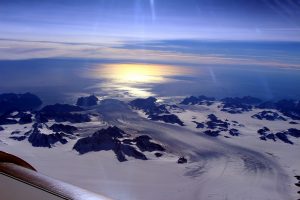 The recent heat wave that baked both Europe and North America also had a major impact on the world's largest island: temperatures across Greenland spiked during the same time period, causing a major melt event that released 18 billion tons of water over a three-day period, enough to cover the entirety of the state of West Virginia in a foot of water.
Over the weekend between July 15 and 17 an unusually warm air mass combined with a high-pressure dome over northern Greenland, sending temperatures—already 5°C (10°F) above normal this year—even higher, causing an "unusually extensive melt event" across 45 percent of the island's massive ice sheets, as described by Ted Scambos, a senior research scientist at the University of Colorado's Earth Science and Observation Center and National Snow and Ice Data Center.
"It definitely worries me," remarks Kutalmis Savlam, a research scientist with the University of Texas-Austin. "We are at 67 [degrees] latitude here on top of the world [at the] north pole, and we could just yesterday… we could wander around in our t-shirts. That was not really expected."
This melt event caused Greenland's ice sheets to shed an estimated 18 billion tons of water over that weekend—that's 6 billion tons per day—enough to "cover West Virginia in a foot of water—4 inches per day, roughly," according to Scambos. This heat wave even extended as far into Greenland's interior as the East Greenland Ice-core Project (EastGRIP): even at an elevation of 9,000 feet (2,740 meters) near the middle of the ice sheet the temperature rose to -1.6°C (29°F), warm enough to soften the snow on top of the station's skiway, making the surface of the typically-frozen runway too soft for the cargo planes to safely land on, forcing the science team to postpone shipping their latest batch of ice cores back to the mainland.
"This event is one of many events over the whole summer," Scambos adds. "We can expect on the order of 100 billion tons of water going into the ocean. Greenland as a whole is losing a tremendous amount of ice every year now." 2019 was a record year for ice melt for Greenland, shedding roughly 532 billion tons of ice over the course of the year, hiking sea levels permanently by 1.5 millimeters that year alone; it is estimated that Greenland has enough ice to raise sea levels by 7.5 meters (24.6 feet) if the entire ice sheet were to melt.
Prior to the effects of global warming, Greenland would receive roughly 600 billion tons of snowfall each year and lose about 300 billion from ice melt; now, the world's second largest ice mass "is losing nearly 300 gigatons of water each year more than it gains from snowfall," according to William Lipscomb , a senior scientist at the National Center for Atmospheric Research's Climate and Global Dynamics Laboratory.
"There's still time to avoid catastrophic sea level rise, but every year that greenhouse gas emissions continue at the present rate increases the chances of serious problems down the road."
Image Credits:
News Source:
Dreamland Video podcast
To watch the FREE video version on YouTube,
click here
.
Subscribers, to watch the subscriber version of the video, first log in then click on Dreamland Subscriber-Only Video Podcast link.