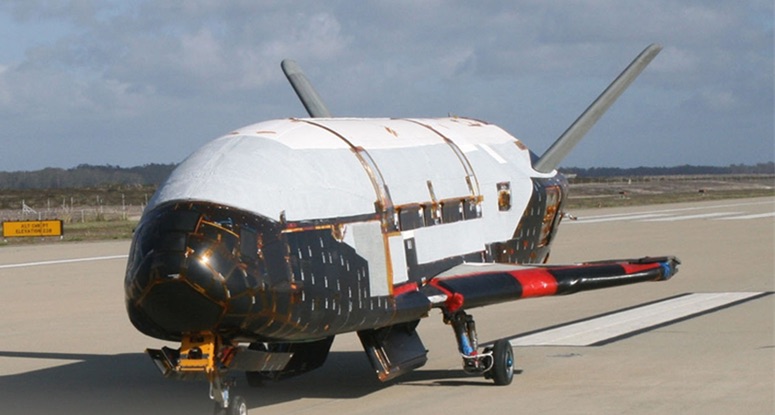 The U.S. Air Force's super-secretive X-37B space plane returned to Earth on October 27 after spending a record 780 days in orbit. This is the fifth mission for the miniature space shuttle, beating its previous orbital marathon record by 62 days. But despite the two craft that make up the Air Force's shuttle fleet having spent nearly eight years combined traveling through space, we still know extremely little about what top-secret missions these spacecraft were carrying out.
"With a successful landing today, the X-37B completed its longest flight to date and successfully completed all mission objectives," according to Randy Walden, Air Force Rapid Capabilities Office director. "This mission successfully hosted Air Force Research Laboratory experiments, among others, as well as providing a ride for small satellites."
What we do know is that the X-37B that recently returned to Earth launched from Kennedy Space Center Launch Complex 39A on September 7, 2017, aboard a SpaceX Falcon 9 rocket (the first four missions were launched on Atlas V rockets), and was accompanied by a number of smaller satellites into orbit.
The X-37B was inserted into a highly-inclined, 54.5-degree orbit, carrying it further from the equator than it had been on previous missions. On April 19, 2018, it also used its onboard propulsion system to lower its orbit from about 220 miles (355 kilometers) high down to 196 miles (316 kilometers), causing it to change the repeat of its ground track–the path on the surface of the Earth directly below a satellite–from two days to five.
The only experiment aboard that was disclosed by the USAF was the Advanced Structurally Embedded Thermal Spreader II (ASETS-II), an oscillating heat pipe that reportedly can expel 45 times more heat than a copper heat sink. Otherwise, any other experiments that were carried by the X-37B remained extremely hush-hush. The Air Force hasn't even disclosed which of the two X-37B craft were sent on this mission.
"The X-37B continues to demonstrate the importance of a reusable spaceplane," said Secretary of the Air Force Barbara Barrett. "Each successive mission advances our nation's space capabilities."
In 2017, the non-profit group Secure World Foundation, who promotes the peaceful exploration of space, says that the heavily-classified nature of the X-37B's mission suggests that intelligence-related hardware might be installed on board.
While the X-37B would be nearly useless as a space-based weapons platform for attacking targets on the ground, it could easily carry surveillance or reconnaissance equipment, or be used as a platform for the development of potential anti-satellite technologies.
Dreamland Video podcast
To watch the FREE video version on YouTube,
click here
.
Subscribers, to watch the subscriber version of the video, first log in then click on Dreamland Subscriber-Only Video Podcast link.