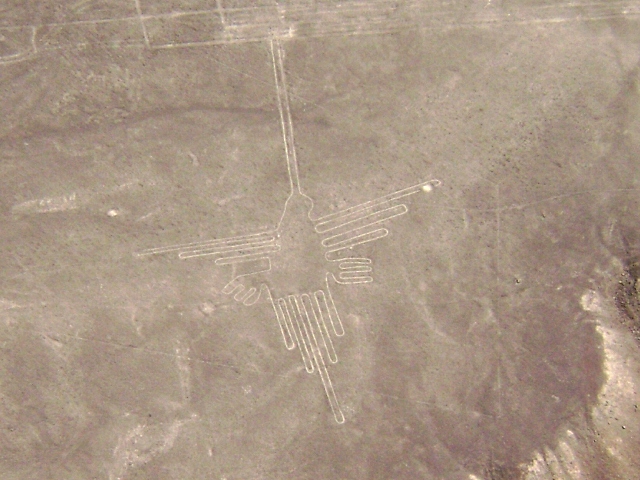 Researchers studying the morphological traits of the birds of Peru's famous Nazca Lines have made an interesting revelation regarding the animals depicted by the massive earthworks: none of them are native to the Nazca region, but instead represent coastal creatures, rather than an aviary that would be found on the high Peruvian plateau.
The Nazca Lines are sprawling earthworks made by an unknown group of pre-Incan people that removed the dark topsoil on the Nazca Plateau to reveal the light-colored sand underneath, in the process creating pictures of geometric figures, human-like characters, along with plant and animal designs, with most of the artwork being large enough to only be seen in their entirety from the air. Amongst the animal designs, the largest group represented are birds—16 in total—and were the focus of this study conducted by Japanese researchers.
The team examined the morphological traits of the earthen birds, including their beaks, necks, wings and tails; these traits were then compared to more than 2,000 scientific drawings of Peruvian birds, in an attempt to identify which species the Lines' creators had in mind when they were designing the giant images.
The analysis allowed the team to classify the birds into three groups: pelicans, parrots , and a bird called a "hermit". Hermits, a type of hummingbird—indeed, the 93-meter (305-foot) Nazca earthwork depicting the creature is commonly called "The Hummingbird"—are not found in the arid Nazca Desert, but rather consist of two species, Koepecke's hermit and the Reddish hermit, found in the lower-lying jungles around the Nazca Plateau. In fact, all of the birds depicted by the Nazca Lines are not found in the region: parrots, like their sacred hermit counterparts, are endemic to the jungle, and pelicans are a coastal bird, an even more distant inspiration for the Lines' creators.
According to the study's text, the researchers believe that the reason "exotic birds were depicted in the geoglyphs instead of indigenous birds is closely related to the purpose of the etching process," meaning that it's possible that instead of performing just an astronomical function, the tropical birds may also have been navigational aids, a permanent signpost leading the way to lands with more abundant food and water.
Image Credits:
News Source:
Dreamland Video podcast
To watch the FREE video version on YouTube,
click here
.
Subscribers, to watch the subscriber version of the video, first log in then click on Dreamland Subscriber-Only Video Podcast link.