Pioneering NASA mathematician Katherine Johnson died on February 24, 2020, at the age of 101. Johnson's calculations were critical in ensuring the success of the early Mercury and Apollo spaceflight missions. Along with fellow mathematicians Dorothy Vaughan and Mary Jackson, Johnson was the subject of the 2016 book Hidden Figures, documenting the contributions of the black female mathematicians who worked at the National Aeronautics and Space Administration.
Johnson's role as a NASA mathematician included making complex calculations for the trajectories, launch windows and emergency return paths for the manned Mercury missions, starting with crunching the numbers for Alan Shepard's May 5, 1961 flight aboard Freedom 7, making him the first American in space. Her expertise was such that when confronted with the numbers that were calculated by NASA's new-fangled computers for the Friendship 7 space mission, a skeptical John Glenn requested that Johnson do the calculations, refusing to fly unless she okayed the numbers herself.
"If she says they're good, then I'm ready to go," Johnson recalled Glenn saying. Indeed, her calculations were true: on February 20, 1962, her numbers successfully enabled Glenn to become the first American to orbit the Earth.
Johnson's work continued into the Apollo Program, calculating the trajectory for Apollo 11's journey to the Moon, and plotting a safe return course for the crew of the stricken Apollo 13 mission. Before her retirement from NASA, Johnson also worked on the Space Shuttle program, the Earth Resources Satellite, and even worked on plans for a mission to Mars.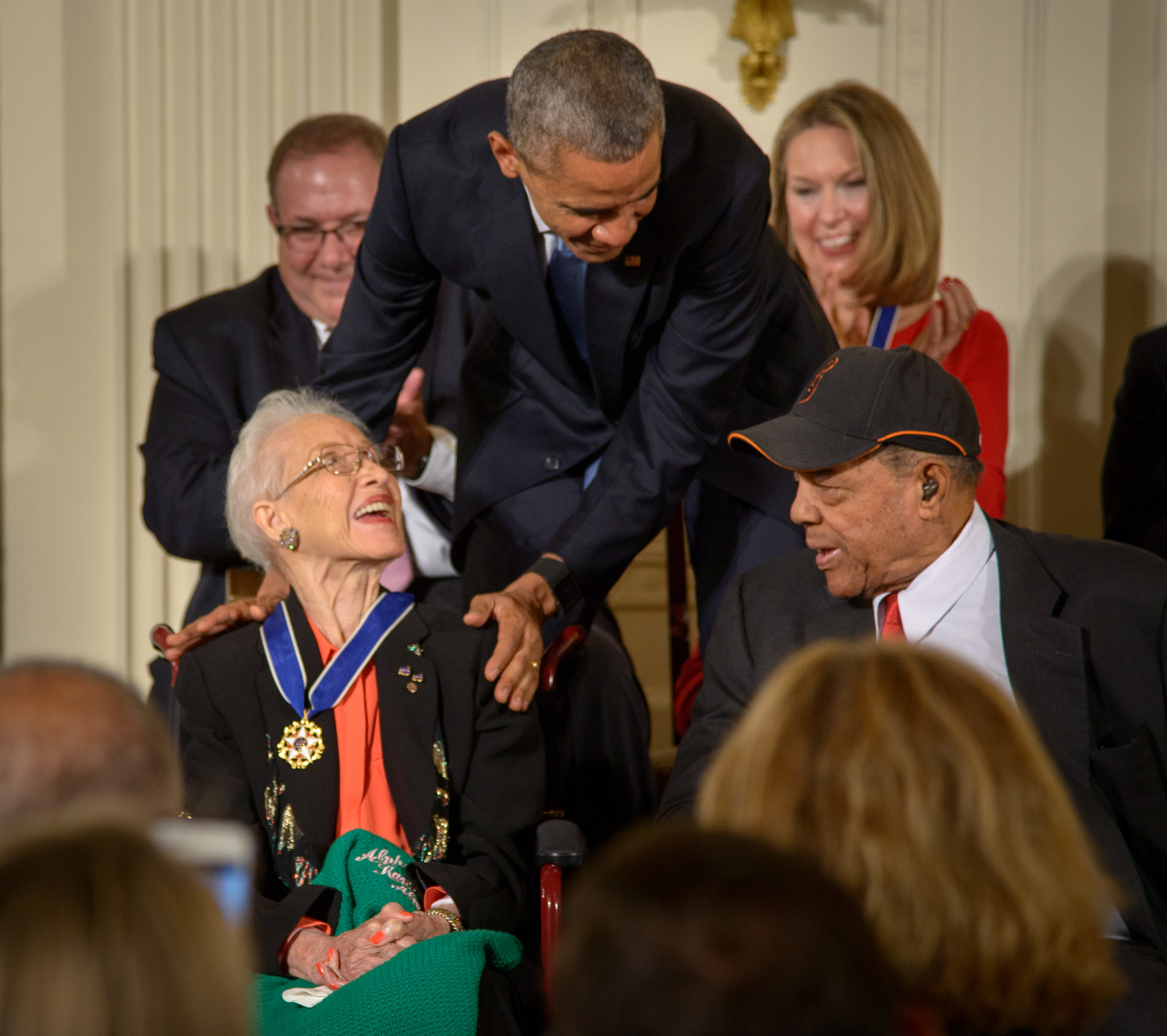 In 2015, Johnson was honored by President Barak Obama with the Presidential Medal of Freedom for her essential work. But Johnson's contributions to the success of NASA's manned spaceflight missions went largely unnoticed until 2016, when the book Hidden Figures brought the importance of the members of the agency's "Computer Pool", a pool of women that performed the complex calculations essential for successful spaceflight, to light; the book was also adapted into a movie of the same name that year. Since then, Johnson has received numerous honors, including a Congressional Gold Medal for her contribution to space travel.
"Ms. Johnson helped our nation enlarge the frontiers of space even as she made huge strides that also opened doors for women and people of color in the universal human quest to explore space," NASA administrator Jim Bridenstine said in a statement, calling Johnson an "American hero."
"At NASA we will never forget her courage and leadership and the milestones we could not have reached without her," Bridenstine continued.
In 2019, Senator Kamala Harris introduced a bill to honor Johnson and her fellow "hidden figures".
"A barrier breaker and inspiration for women of color everywhere, Katherine's legendary work with NASA will forever leave a mark on our history," Harris tweeted, mourning the passing of what she called an "icon and brilliant mathematician."