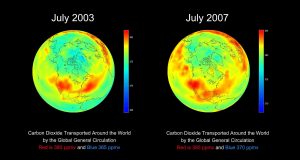 The annual peak in atmospheric carbon dioxide levels hit a new record high this May, averaging 421 parts per million (ppm), an increase of nearly 1.9 ppm over this time last year, and more than 50 percent higher than the pre-industrial average of 280 ppm.
Atmospheric CO2 levels fluctuate over the course of the year, dropping as plant growth increases the amount of carbon absorbed over the course of the growing season in the Northern Hemisphere, and rising again as plant life goes dormant in the winter; this results in a late-spring peak in CO2 levels, typically occurring in May. This year, levels for May at NOAA's Mauna Loa Atmospheric Baseline Observatory were recorded as averaging 420.99 ppm, a 1.86 ppm increase over May 2021's 419.13 ppm.
"Watching these incremental but persistent increases in CO2 year-to-year is much like watching a train barrel down the track towards you in slow motion. It's terrifying," said University of Wisconsin-Madison climate scientist Andrea Dutton. "If we stay on the track with a plan to jump out of the way at the last minute, we may die of heat stroke out on the tracks before it even gets to us."
The last time CO2 levels were this high was during a period that occurred between 4.1 and 4.5 million years ago called the Pliocene Climatic Optimum. This was a period in Earth's history when the global average temperature was 4°C (7°F) above the pre-industrial era, causing sea levels to rise between 5 and 25 meters (16.4 and 82 feet, more than enough to inundate all of the world's coastal cities) above what they are today.
So far, the to-date global average surface temperature for 2022 is only the fifth-highest on record, coming in at just a tenth of a degree Celsius (0.09°C, or 0.162°F) behind 2019's 0.96°C (1.73°F) above the 1901-2000 average, mitigated in no small part by an ongoing La Niña event in the El Niño–Southern Oscillation (ENSO) band across the Pacific Ocean that started in 2020. Regardless of where this year's temperature ranking sits in the record books, the energy imbalance this trapped heat causes is generating extreme weather events, such as the prolonged heat wave experienced by India and Pakistan earlier this year.
Image Credits:
News Source:
Dreamland Video podcast
To watch the FREE video version on YouTube,
click here
.
Subscribers, to watch the subscriber version of the video, first log in then click on Dreamland Subscriber-Only Video Podcast link.