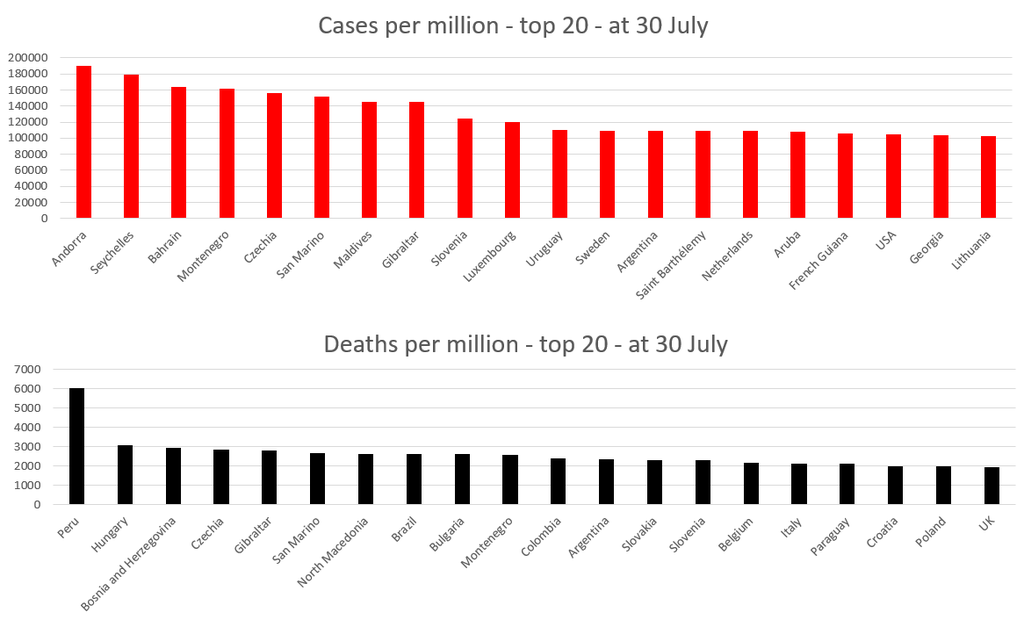 Five million people globally have been confirmed to have died from COVID-19 since the first known patient was diagnosed with the SARS-like disease just 23 months ago in China. Infections from the fast-spreading coronavirus have now become the world's third leading cause of death, after heart disease and stroke. Although nearly 7.1 billion vaccine doses have been administered around the world, new resurgences of the disease are striking regions around the globe, with many populations suffering from vaccine hesitancy due to government mistrust and misinformation campaigns, and others not having access to the life-saving vaccines to begin with.
This total of five million deaths is most certainly an undercount, as it only includes deaths that have been confirmed to have been due to a COVID-19 infection; it does not include undiagnosed COVID-19 fatalities or deaths caused indirectly by the pandemic, such as lockdown-related suicides or individuals that were unable to receive medical care for other ailments due to overtaxed medical facilities.
It is also important to bear in mind that many regions around the globe do not have the infrastructure or resources to report local deaths and their respective causes in a timely manner—if any report is made at all—so many of the dead in less affluent countries won't be counted for some time to come.
The United States alone is fast approaching 750,000 dead—that's three quarters of a million souls, far surpassing the death toll of any war the US has been involved in, including the nation's bloodiest conflict, the American Civil War, a conflict that caused more than 650,000 deaths. To put that number further into perspective, the Civil War lasted for four years; the pandemic has killed 100,000 more Americans than that in just 20 months.
One peculiar aspect of this pandemic is that the wealthier nations appear to have suffered a disproportionately higher death toll than less affluent countries; although Brazil, Britain, the European Union and the United States only account for one-eighth of the world's population, they represent nearly half of all reported COVID-19 deaths.
"What's uniquely different about this pandemic is it hit hardest the high-resource countries," remarked Dr. Wafaa El-Sadr, director of ICAP, a global health center at Columbia University. "That's the irony of COVID-19."
This apparent paradox appears to be due to wealthier nations having larger populations of elderly individuals, nursing home residents and cancer survivors, demographics that are more susceptible to the more serious effects of the SARS-CoV-2 coronavirus; conversely, the populations of poorer nations tend to consist of younger individuals, a group less likely to contract serious forms of the disease.
Image Credits:
News Source:
Dreamland Video podcast
To watch the FREE video version on YouTube,
click here
.
Subscribers, to watch the subscriber version of the video, first log in then click on Dreamland Subscriber-Only Video Podcast link.