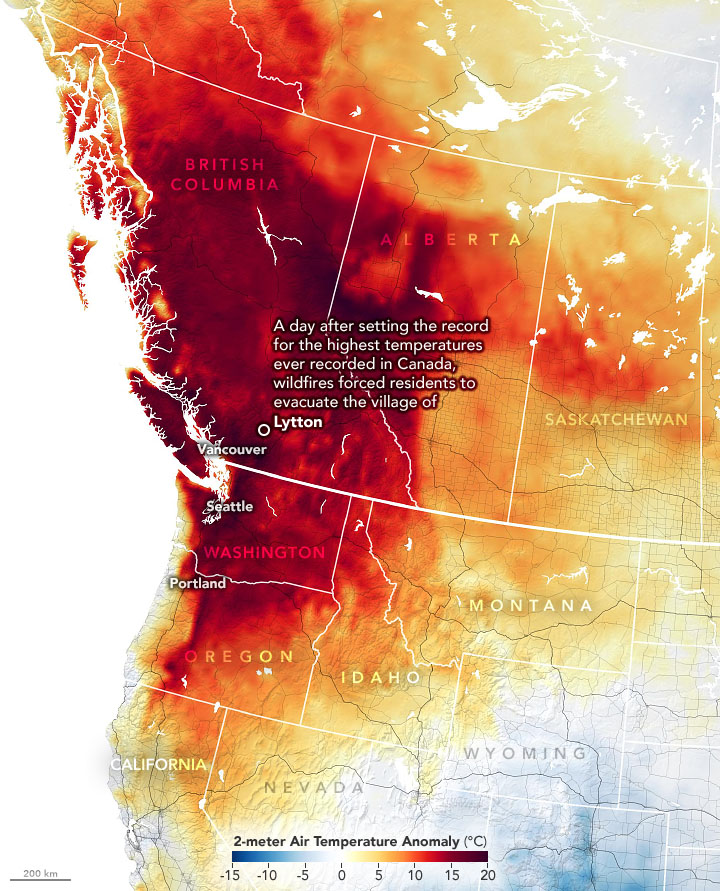 Extreme weather conditions fueled by climate change are behind the massive wildfires burning in the Pacific Northwest and the deadly flooding that has struck Western Europe. One wildfire in Oregon alone has already burned an area larger than New York City, and more than 180 people having been killed by rapidly-rising waters in Europe.
The Bootleg wildfire in southern Oregon has consumed over 394,500 acres (1,600 square kilometers, or 620 square miles)—an area more than double that of New York City—and more than two weeks after it started is still only 32 percent contained, with over 2,200 firefighters working to battle the fire, a conflagration fueled by record-breaking hot and dry conditions and forcing the evacuation of over 2,000 people from the affected areas.
Due to the ongoing hot and dry conditions, officials are expecting the mostly-uncontained wildfire to spread rapidly for the foreseeable future. "We're likely going to continue to see fire growth over miles and miles of active fire line," according to Bootleg Fire operations spokesperson Holly Krake. "We are continuing to add thousands of acres a day, and it has the potential each day, looking forward into the weekend, to continue those 3-to-4-mile runs."
In Europe, unusually heavy rain from a storm complex that stalled over France and Germany for two days last week has caused catastrophic flooding across the region, from the UK to Italy. Some regions in Germany received 100 to 150 millimeters (3.9 to 5.9 inches) of rain in 24 hours—more than a month's worth of precipitation in a single day; the municipality of Reifferscheid saw 207 millimeters (8.1 inches) fall within a nine-hour period, while the city of Cologne recorded 154 millimeters (6.1 inches) over 24-hours.
At least 207 people have died in the resulting flash floods, including 172 in Germany and 32 in Belgium, with Austria, Italy and Romania each suffering one casualty. Initially, 1,300 people were feared to be missing in Germany alone, although that number has dropped to 155. Although it is too early to estimate how costly the damage will be, the rebuilding efforts in Germany alone will be in the billions of euros, to say nothing of the damage caused in other countries by the same weather system.
The consensus amongst climate researchers is that both the Pacific Northwest's record-breaking heat wave and the deadly flooding in Europe couldn't have reached magnitudes of this intensity without the aid of human-caused global warming, with the rising of the planet's average temperature exacerbating already poor conditions along the Pacific Coast, increasing the chances of such a massive heat wave striking by at least 150 times, with global warming adding roughly 2°C (3.6°F) to the temperature records.
Researchers are also studying the links between stalled weather systems like the one that deluged Western Europe and climate change-caused disruptions to the jet stream, weakened by the rapid warming being recorded in the Arctic. "In 2021, the question no longer arises whether climate change has contributed to this," says Dr. Carl-Friedrich Schleussner, research group leader at the Geographical Institute of the Humboldt University in Berlin, regarding the current flood situation in Germany. "The only question is how much."
Dreamland Video podcast
To watch the FREE video version on YouTube,
click here
.
Subscribers, to watch the subscriber version of the video, first log in then click on Dreamland Subscriber-Only Video Podcast link.