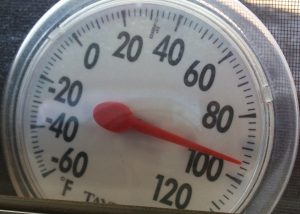 Western Europe is baking under the effects of an intense heat wave that is producing not only record-breaking temperatures—including the first time in history that London, UK, has hit 40°C (104°F)—but also major wildfires across the continent. Similar conditions are also affecting large portions of the United States, with over 100 million people across 20 states under official heat alerts.
No less than 21 countries in Europe have issued heat warnings for at least part of their territories, ranging from Austria to the UK. The temperature at London's Heathrow Airport hit a record high of 40.2°C on July 19 (104°F, the former record was 38.7°C/101°F); the previous day, the airport had to suspend flights "after high surface temperatures caused a small section [of one of the runways] to lift," according to Heathrow's Twitter feed.
The UK isn't alone in facing these extreme temperatures: Germany is expecting the same 40-degree conditions, with the risk of wildfires listed as very high; Belgium extended a "code red" warning to three provinces, warning citizens to take precautions against the forecast heat; Sweden, known for its typically milder climate, issued an orange warning ahead of a forecast of 35°C (95°F) in the country's southern regions for the 19th, 20th and 21st.
The French town of Cazaux recorded an even hotter temperature of 42.4°C (108.3°F) on July 18, the hottest temperature recorded since the town's weather station was opened 101 years ago. The hot dry conditions in the region are also fueling a 27,000-acre wildfire that has forced the evacuation of 32,000 people.
Spain's regions of Castile, Léon and Galicia are also suffering major wildfires, with the conflagrations forcing rail service to be suspended between Madrid and Galicia. The country has reportedly lost 172,000 acres to wildfires this year alone.
Aside from providing ripe conditions for wildfires, the heat is also directly hazardous to human health, with over 1,100 people estimated to have died across Europe from the current heat wave; Portugal has reported 659 people, mainly elderly individuals, having died from the intense heat. And there is little relief in sight for the immediate future, with the current wave not expected to break until the middle of next week.
"The question everybody's asking, looking ahead, 'when will this end?' Unfortunately, looking at all the models from our partners at the national and regional level, possibly not until middle of next week," World Meteorological Organization (WMO) official Robert Stefanski said at a news conference on July 19.
"These heat waves are having impacts on human health," commented WMO Secretary-General Petteri Taalas. "The same people who have been vulnerable to the Covid pandemic, they are also vulnerable to heat waves. So, we expect to see increased deaths among the old and sick people."
In the US heat alerts were issued on July 19 and 20 affecting 100 million Americans—one third of the US population—across 20 states, with the National Weather Service's Weather Prediction Center tweeting that "nearly 40 high temperature records are at risk of breaking" over the course of those two days. Conditions are expected to worsen later in the week and through the weekend, with roughly 265 million people facing temperatures in excess of 90°F (32°C) through to early next week, with the Southern Plains expected to be hit the hardest.
"Heat advisories are also now in effect for Wednesday for portions of the Northeast, including the I-95 corridor from Philadelphia to Boston, where heat index values are forecast to reach near 100 degrees," according to NWS's Weather Prediction Center.
Heat records this year have also been outpacing cold records by more than ten-to-one, according to Gabriel Vecchi, a climate scientist at Princeton University, a trend being fueled by the effects of global warming; globally, 188 all-time heat records had been broken from the start of the year through July 16, despite only 18 cold records having fallen over the same time period. In the US, that hot-to-cold ratio was closer to twenty-to-one, with 92 broken heat records handily outpacing a mere five surpassed cold records.
"This is what you would expect from a planetary warming that's been driven in large part from greenhouse gases; this is now the world we're living in," Vecchi said in an interview with CNN. He also said that "it's fair to think that almost every heatwave that we see right now has some influence from global warming."
Dreamland Video podcast
To watch the FREE video version on YouTube,
click here
.
Subscribers, to watch the subscriber version of the video, first log in then click on Dreamland Subscriber-Only Video Podcast link.