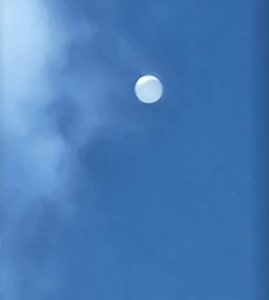 China and other countries routinely launch powered balloons. The trajectory of these devices can be controlled and normally they don't engage in airspace incursions, especially of other nuclear powers. Last week, however, a Chinese powered balloon carrying an instrument payload the size of a 2 large vans was directed over Montana and remained on station there for some days. There was an immediate protest from the United States and Secretary of State Anthony Blinken cancelled his first planned meeting with Chinese dictator Xi Jinping, a major response from the U.S. Today (Saturday, February 4) the U.S. shot down the device after it was safely over the Atlantic Ocean.
The 341st Missile Wing is located at Malmstrom Air Force Base in Montana. The wing controls 150 launch facilities. U.S. strategic missile control systems are not connected to the internet and use forms of intranet communications that involve only wire-line. There are no electronic interfaces that can be hacked. Much has been made of the idea that the Chinese could collect whatever data they might want about these systems from satellites. This is not correct. The reason is that the only telltale emissions from such systems are localized and not detectable from satellite distances. It is probable that some emissions could be detected from 10 miles in space. During the cold war, telephone wire-line emissions could be detected, received and analyzed across hundreds of miles. The fact that a balloon was also observed over Costa Rica suggests that the viability of using a monitoring station in Latin America is under study. It would use a more sensitive version of technology that the U.S. used to monitor Soviet military wire-line communications during the Cold War.
The most likely reason for the incursion would be to determine whether or not there are any detectable signals coming from U.S. missile wings that might give Chinese military intelligence early warning of impending deployment. It is probable that the incursion is part of a runup to an invasion of Taiwan.
Dreamland Video podcast
To watch the FREE video version on YouTube,
click here
.
Subscribers, to watch the subscriber version of the video, first log in then click on Dreamland Subscriber-Only Video Podcast link.