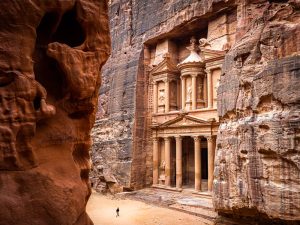 Archaeologists may have a new tool for use in the search for the remains of lost civilizations—especially in areas now covered by the sea—by detecting the magnetic anomalies borne by the traces of the people that once lived in these long-forgotten realms.
Magnetometry is a technique used to measure minute variations in the Earth's magnetic field, a method valuable to archaeologists since the buried remains of ancient cultures can affect the geomagnetic field in a given area, revealing the artifacts' presence. This technique is especially useful in areas that are unavailable for excavation, such as potential archaeological sites situated deep below bodies of water.
To that end, the Lost Frontiers Project at the UK's University of Bradford plans to use magnetometry to explore the ancient plains and hills of Doggerland, a region now covered by the North Sea that was once home to ancient peoples before becoming inundated following the end of the last ice age.
"Small changes in the magnetic field can indicate changes in the landscape, such as peat-forming areas and sediments, or where erosion has occurred, for example in river channels," explains Ben Urmston, a PhD student at the University of Bradford. "As the area we are studying used to be above sea level, there's a small chance this analysis could even reveal evidence for hunter-gatherer activity. That would be the pinnacle.
"We might also discover the presence of middens, which are rubbish dumps that consist of animal bone, mollusc shells and other biological material, that can tell us a lot about how people lived.
"If we detect features that could indicate a midden, for example, we can then target that area and take a sample of the seabed," Urmston adds. "We can send the organic matter for carbon dating, which can usually tell within a decade or two when that was laid down."
Previously, researchers made use of magnetic data collected by companies prospecting for petroleum and minerals that might be found below the seabed—shipwrecks and unexploded mines and bombs can also be detected with the technique—but Lost Frontiers has also found that a treasure trove of data is being made available from surveys made by offshore wind farming companies.
But the same source of this new data is also threatening potential submarine archaeological sites: with the population's growing demand for more electricity and the need to switch to renewable sources of power to combat global warming, archaeologists need to act fast to identify potential research sites, and then work with the development companies to study these sites before they are rendered inaccessible by construction projects.
"Exploring the submerged landscapes beneath the North Sea represents one of the last great challenges to archaeology," according to  Lost Frontiers' academic lead, Professor Vince Gaffney. "Achieving this is becoming even more urgent with the rapid development of the North Sea for renewable energy."
Dreamland Video podcast
To watch the FREE video version on YouTube,
click here
.
Subscribers, to watch the subscriber version of the video, first log in then click on Dreamland Subscriber-Only Video Podcast link.