Archived podcast for paid Subscribers only. Please login to access.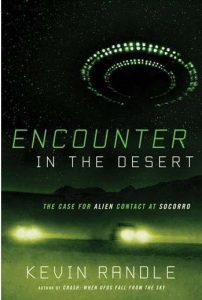 Remember the Socorro UFO event, when patrolman Lonnie Zamora had a close encounter with a UFO and its two occupants on a roadside in rural New Mexico? It happened back in 1964 and was a worldwide sensation at the time. Then the damage control experts took over and it was soon relegated to the ashcan of history.
But should it have been? Famed UFO researcher Kevin Randle says definitely not, and he offers the evidence to prove it in this riveting edition of Dreamland.
In the second half of the show, some Whitley zingers show up, and you have to wonder yet again if he can tell all he knows. He and Kevin discuss their relationships with General Arthur Exon, who gave Kevin the extraordinary interview that he published in the Truth about the UFO Crash at Roswell, and then get into some virtually unknown material about the bodies that were found.
Listen closely. There is a LOT happening between the lines in this fabulous discussion!
Get Encounter in the Desert! Click here.
Kevin Randle's blog is KevinRandle.Blogspot.com
Don't miss Whitley and Anne's new book, the Afterlife Revolution. Click here.

Dreamland Video podcast
To watch the FREE video version on YouTube,
click here
.
Subscribers, to watch the subscriber version of the video, first log in then click on Dreamland Subscriber-Only Video Podcast link.