Archived podcast for paid Subscribers only. Please login to access.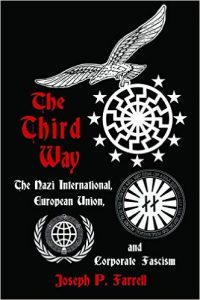 Joseph Farrell joins us for week one of one of the deepest explorations of the influence of Nazism in modern life that you will ever hear. Did you know that even though representatives of the German Army and the German Nation signed surrender documents at the end of World War II, the Nazi Party did no such thing. Listen as Joseph Farrell tells us about such mysteries as the origins of the modern jihad movement in the Berlin of the Nazi era, or the chilling journey of John McCone from Hitler's box at the 1936 Olympics to his pivotal role on the Warren Commission that covered up the Kennedy assassination.
Eye-opening and mind opening!
Get Joseph's powerful new book, The Third Way. Do not miss this one! Click here to order from Amazon!
Explore Joseph's extraordinary website, GizaDeathStar.com.


Technical difficulties resolved. If you do not see an audio player beneath the show's masthead above, refresh your browser.
Next Week Joseph Farrell and Peter Levenda join together to discuss the dark energies associated with the Nazi survival. You will hear some of the greatest and most sinister secrets of modern geopolitics revealed!
Coming later this month: A mind blowing story of close encounter, disappearance and extreme high strangeness from the UK.
Dreamland Video podcast
To watch the FREE video version on YouTube,
click here
.
Subscribers, to watch the subscriber version of the video, first log in then click on Dreamland Subscriber-Only Video Podcast link.