Archived podcast for paid Subscribers only. Please login to access.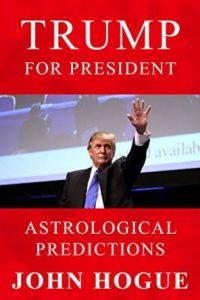 The meteoric rise of Donald Trump has been among the most unexpected events in modern American political history. As this is being written he has a substantial lead among Republican candidates and there is a serious possibility that he will be the party's nominee for president.
Over the past three decades, Trump has created for himself both real estate and media empires. He is considered absurd, repulsive and demagogic by much of the Republican establishment, but his populist approach is extremely popular among voters, many of whom approve of his outspoken delivery of his ideas and his ability to finance his own campaign without the need for outside money and the strings that come attached to it.
So, who is this man? We can watch him on TV, attend his rallies, read his books, but how deeply can we really know him.
John Hogue wears many hats, among them astrologer, and this week he takes us deep into the hidden mind of the Donald, based on his astrological chart. Even if you consider astrology complete bunk, you are going to find the insights Hogue has gained absolutely fascinating. And if you think that it bears credibility, you are going to be shocked, even astonished by Hogue's findings.
Visit John Hogue at HogueProphecy.com
Buy Trump for President: Astrological Predictions here.
NOTE: THIS PROGRAM DOES NOT NECESSARILY REFLECT THE POLITICAL OPINIONS OF JOHN HOGUE OR WHITLEY STRIEBER
Dreamland Video podcast
To watch the FREE video version on YouTube,
click here
.
Subscribers, to watch the subscriber version of the video, first log in then click on Dreamland Subscriber-Only Video Podcast link.