Archived podcast for paid Subscribers only. Please login to access.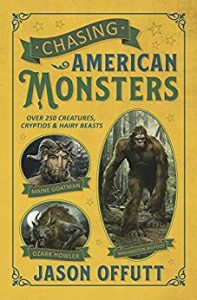 America is full of monsters and Jason Offutt has researched most of them! Listen as he tells Whitley his eerie findings from the high strangeness of shadow people he has seen himself to a living UFO to giant birds and finally a hair-raising story of a gnome that would be no more than creepy if Whitley didn't possess an unexplained video of just such a creature!
Jason Offutt's website is JasonOffut.com.
Get American Monsters through us. Click here to explore and order!
To see the trailcam image of the gnome mentioned in the show, click on "related files." We have had analysis done on this image, and the creature is moving at 1200fpm. It was taken on a trailcam in Pennsylvania. Thanks to Linda Moulton Howe and Earthfiles.com.
To listen on TuneIn Radio, click here or search Dreamland in the TuneIn app.
To listen on Alexa, say, "Alexa, open Dreamland."
To listen on the Paranormal Radio feed, click here. You can get the Paranormal Radio app from the Apple and Android app stores. Scroll down in the app to the Dreamland podcast.
You can also listen to the free version of the show on our YouTube channel. Click here. Should the subscriber stream fail, it will also be made available on YouTube. If the link above doesn't work after logging in, go to the subscriber area where you will find a link to our private YouTube channel in the video section.
Related Files:
Gnome in forest (1.5MB)
Dreamland Video podcast
To watch the FREE video version on YouTube,
click here
.
Subscribers, to watch the subscriber version of the video, first log in then click on Dreamland Subscriber-Only Video Podcast link.