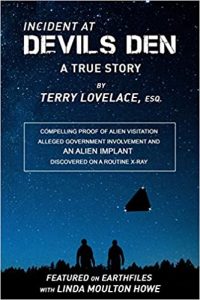 In 1977 two young airmen were camping out at Devil's Den in Arkansas when they noticed a strange triangle of lights in the sky. As they watched it slowly approach, one of the
best documented of all abduction cases began to unfold. The two witnesses were not left with missing time. They remembered the incident. Years later, after an accident, Terry's leg was x-rayed and an object that appeared to be some sort of antenna was observed in it, along with a strange bone structure embedded in deep muscle tissue. (The implant is pictured below.)
This conversation between Whitley and Terry is absolutely unique in the world. There simply isn't any other show wh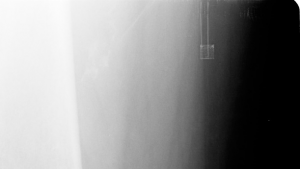 ere a highly articulate abductee can compare notes with a host who is also an abductee. As a result, this show is going to take deeper inside the abduction phenomenon than most, if not all, others you have ever heard.
Terry will be joining Unknowncountry subscribers in our video room on Saturday, Feb 13 at 11AM Pacific. If you're not a subscriber, there's no time like the present to join this unique website! To see our inexpensive plans, click here.
To learn more about Terry go to his website, TerryLovelace.com. To get his books, click here.
There is a strange sound repeated in this show. It is not a glitch or a fault, but something that somehow entered the stream from the outside as it was being recorded. This is a statement from a sound engineer who analyzed it for us:
I measured the two instances and here's what I found:
1st one was 5,955.235 Hz and 11,910.47 Hz. (The upper one is presumably the first overtone, which is twice the fundamental frequency.)

2nd one was 5,939.085 Hz and 11,878.17 Hz.
Telephone sound maxes out at about 4KHz (4,000 cycles or vibrations per second) so these sounds weren't carried in the audio of the phone call.
In my opinion it's unlikely, for several reasons, that they were created by acoustic feedback (say, from your headphones to your mic), but you could experiment with that: keep all your settings and physical arrangements as they were, start recording, speak into the mic and pull your headphones off your ears about an inch, move around physically a bit, and see if you can re-create those noises.
The sound isn't an electrical glitch — i.e., generated by a dirty connection somewhere.
Now, here's an anomaly: When I did my first measurements I held my phone up to my loudspeakers, using a frequency-measuring app. I then wrote down the result.
Then I did it again, but no sound came out of the speakers. Why? Because my amplifier was turned off. I'd caught up on a lot of sleep last night, got up really late, and had not yet turned on the amplifier. So there was no way I could have heard or measured that sound the first time. Yet I heard it and it registered on the app.
Dreamland Video podcast
To watch the FREE video version on YouTube,
click here
.
Subscribers, to watch the subscriber version of the video, first log in then click on Dreamland Subscriber-Only Video Podcast link.