Archived podcast for paid Subscribers only. Please login to access.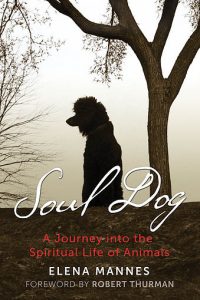 In Soul Dog, the story of her remarkable journey with her dog and teacher Brio, Elena Mannes has created something beautiful, moving, important and deeply empowering. We are told always that there is no such thing as soul and that this life is all there is. Worse, we live in a state of anesthesia when it comes to soul and the world of soul. We cannot feel it, so we come to assume that it isn't there.
Dreamland stands against this strange illusion and for our empowerment as fully realized beings, which means a balanced awareness of body and soul.
Listen as famed film-maker Elena Mannes takes us on an exciting journey through her relationship with Brio, who came to her as a puppy and remains with her as a spirit companion to this day.
Don't expect a lot of sentimentality and speculation. Elena goes into detail about just how her relationship with Brio happened, how he drew her into spiritual awareness in this life and how he has become her guide from the afterlife.
You can learn more about Soul Dog at SoulDogBook.com.
You need a copy of Soul Dog in your hands. It offers real empowerment and a lovely reading experience. To get it from Amazon through us, click here!
After the show, Whitley spends a few minutes telling some of his own stories of his relationships with animals in spirit form, in a lovely 10-minute afterword.
To listen on Alexa, say "Alexa play Dreamland Podcast."
To listen on TuneIn Radio, click here or search Dreamland in the TuneIn app.
To listen on the Paranormal Radio feed, click here. You can get the Paranormal Radio app from the Apple and Android app stores. Scroll down in the app to the Dreamland podcast.
You can also listen to our the free version of the show on our YouTube channel. Click here. Should the subscriber stream become unplayable, subscribers please navigate to the subscriber area. You will find the subscriber YouTube feed under Videos.
Dreamland Video podcast
To watch the FREE video version on YouTube,
click here
.
Subscribers, to watch the subscriber version of the video, first log in then click on Dreamland Subscriber-Only Video Podcast link.