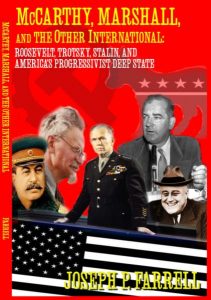 Joseph Farrell returns with an in depth discussion of the countries that are being hurt by the coronavirus situation and the ones that are benefiting from it–and yes, there are some. So, does this mean that the virus IS a bioweapon? The evidence is actually much more complex than the conspiracy theorists would have us believe, and as always, Joseph explores the situation from his unique, and uniquely informed perspective. Bioweapon or not, it is changing the geopolitical balance and possibly even destabilizing the regimes of some hugely powerful international players. Don't miss Joseph's unique insights!
Then, he and Whitley go deeper into something that troubles Whitley deeply, which is whether or not the dark rituals that are associated with some of the figures in MK-ULTRA right up through Jeffrey Epstein's Lolita Express have any real power, or are they simply the conceits of powerful fools? During this discussion, Whitley discloses something that happened to him as a child that he has never spoken of before, and Joseph understands INSTANTLY what the mysterious event means.
A great show that touches on many fascinating topics. Get ready for a mesmerizing listening experience.
Joseph Farrell's website is GizaDeathStar.com. Get his books at LuLu! Click here.
Dreamland Video podcast
To watch the FREE video version on YouTube,
click here
.
Subscribers, to watch the subscriber version of the video, first log in then click on Dreamland Subscriber-Only Video Podcast link.