Archived podcast for paid Subscribers only. Please login to access.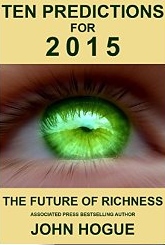 From the escalating threat of terrorism to environmental change and dramatic shifts in climate, 2015 is likely to be a year of great drama. What's the worst and best we can expect? John Hogue predicts. He gives us insight into his new book, 10 Predictions for 2015 and offers specific predictions regarding what will happen in the middle east this year.
Don't miss this show. John Hogue at his most incisive and surprising. Visit John at HogueProphecy.com.