Archived podcast for paid Subscribers only. Please login to access.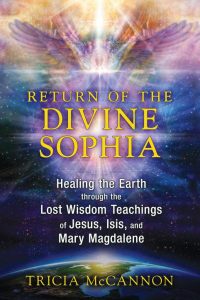 First Half of Dreamland (Free)
Tricia McCannon is one of the great wisdom teachers of our time, and this week she brings her knowledge to Dreamland in this powerful discussion of her book the Return of the Divine Sophia: Healing the Earth through the Lost Wisdom Teachings of Jesus, Isis and Mary Magdalene.
Where are we right now in the history of the human race, and where are we going as we pass from the Age of Pisces to the Age of Aquarius. Extremely powerful energies are at work all around us right now. For example as Aquarius, the age of communication approaches, the entire world is being transformed by the most powerful communications medium ever developed: the internet. So this is not a program about something theoretical, but rather about real energies that are transforming our lives right now.
Second Half of Dreamland (Subscription)
Tricia McCannon is uniquely qualified to describe for us where the powerful transformative energies we are experiencing right now are taking us. Look back over the past ten years, and you will see a cascade of amazing changes. At the beginning of that time, a phone was a phone. Now you carry the whole world in your pocket. Anybody is an instant away, any memory or idea there for in depth exploration right now.
So, let's take a look at the BIGGER picture. There is a reason that the movement from Pisces to Aquarius actually is bringing the exact sort of transformation predicted. The whole of humanity is becoming a new kind of community.
Why is has this amazing transformation happened, and what does it have to do with the alchemy of the soul and mankind's journey through the cosmos? Almost nobody on Earth can coherently voice these burning questions, let alone answer them. Tricia McCannon is among a tiny handful of visionaries and philosophers who can. Explore with her, and see.
Tricia McCannon's website is TriciaMcCannonSpeaks.
Dreamland Video podcast
To watch the FREE video version on YouTube,
click here
.
Subscribers, to watch the subscriber version of the video, first log in then click on Dreamland Subscriber-Only Video Podcast link.