Archived podcast for paid Subscribers only. Please login to access.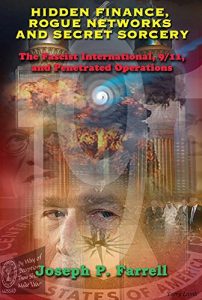 This week we start with New York Times Reporter Leslie Kean telling us the TRUTH behind Project Blue Book and how the new History Channel show measures up to reality. You can read her and Ralph Blumenthal's New York Times story on Blue Book here.
Get Leslie's all-time UFO classic UFOs: Generals, Pilots and Government Officials go on the Record. Click here.
Then Joseph Farrell joins us for his 25th appearance on Dreamland, and it's a great one! He talks about everything from that mysterious event that took place in the Antarctic when the US Secretary of State, Astronaut Buzz Aldrin and the Patriarch of the Russian Orthodox Church all went down at the same time, and from there moves on into–well, you know Joseph, so expect to be intrigued, then fascinated, then amazed!
Get Joseph Farrell's brain-bending book on hidden finance through us! Click here.
Last week's Dreamland stream was interrupted on Alexa, Tune-In Radio, this website and on the Paranormal Radio app. This was not a technical fault but an intentional hack that almost certainly had an official locomotion. The show was about the Nazca Mummies, which new DNA testing has shown to be radically different from anything now known on Earth. This information is NOT WANTED in the public space, which is why nobody is reporting on it except here, and why so much has been done to confuse the issue, create the impression of hoax, etc. We dared to look behind the smoke screen.
Assuming we are not still being hacked:

To listen on TuneIn Radio, click here or search Dreamland in the TuneIn app.
To listen on Alexa, say, "Alexa, play Dreamland Podcast."
To listen on the Paranormal Radio feed, click here. You can get the Paranormal Radio app from the Apple and Android app stores. Scroll down in the app to the Dreamland podcast.
You can also listen to the free version of the show on our YouTube channel. Click here. The subscriber stream is also available on YouTube. Go to the subscriber area where you will find a link to it in the Video section.
Thank you for staying with us, folks. Dreamland and Unknowncountry TELL THE TRUTH!
Dreamland Video podcast
To watch the FREE video version on YouTube,
click here
.
Subscribers, to watch the subscriber version of the video, first log in then click on Dreamland Subscriber-Only Video Podcast link.