Archived podcast for paid Subscribers only. Please login to access.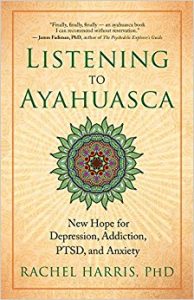 Every day, more studies are published showing that psychedelic substances and plant medicine like Ayahuasca can have powerful health benefits such as the relief of depression and post-traumatic stress disorder.
But there are other studies that suggest that there may be much more involved in the whole experience of exposure to these substances, especially to substances like Ayahuasca.
Briefly, is there somebody there? Is "Grandmother Ayahuasca" a real consciousness that we can engage with when the ego is silenced and the doors of perception are opened?
Dr. Rachel Harris is uniquely positioned to talk about all of these questions. She is a PhD psychologist who has also had the Ayahuasca experience in Costa Rica, and is knowledgeable about studies done on Ayahuasca users which lead to some remarkable suggestions about the meaning of this substance and the presence behind it.
Rachel's website is ListeningtoAyahuasca.com.

Dreamland Video podcast
To watch the FREE video version on YouTube,
click here
.
Subscribers, to watch the subscriber version of the video, first log in then click on Dreamland Subscriber-Only Video Podcast link.