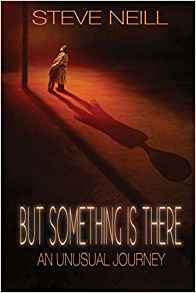 Whitley Strieber's Dreamland this week. Like so many people in the close encounter experience, Steve Neill is a military brat. His father was in submarines in the US Navy. What, exactly, he did, but like so many other witnesses whose parents were in the military–especially the Air Force and the Navy–he started having close encounter experiences when he was a tiny child. He and Whitley have been friends since the late eighties, and here they get together to discuss things that you just won't hear elsewhere. Like many others who come to Unknowncountry, they remember visits to other worlds and much more.
As a video artist and filmmaker, Steve has created marvelous videos about his experiences such as Something Is There and others. You can learn more about his work on his website Blogspot.SteveNeill.Art.com
Watch But Something is There here. Watch the trailer for his NEW FILM "Transfigured Night:" click here.
Subscribers join us in the Video Meeting Room on Saturday, Nov. 7 when Steve Neill will show us some artwork about his otherworld visits!
Dreamland Video podcast
To watch the FREE video version on YouTube,
click here
.
Subscribers, to watch the subscriber version of the video, first log in then click on Dreamland Subscriber-Only Video Podcast link.